DOST-SEI UAlberta S&T Graduate Scholarship 2023 | Apply Now
The Department of Science and Technology has announced the launch of DOST-SEI UAlberta (University of Alberta) S&T Graduate Scholarship program 2023. Under this Scholarship, students will be able to pursue Graduation studies in priority S&T fields at the University of Alberta in Alberta, Canada.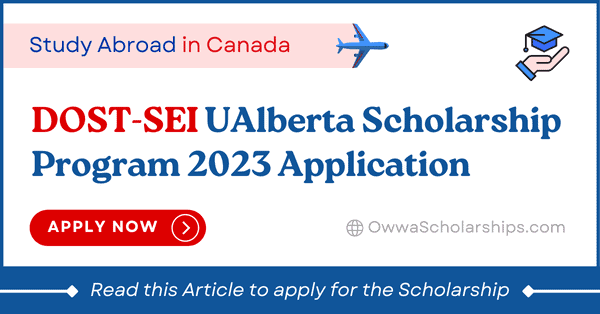 Table of Contents
DOST-SEI UAlberta S&T Graduate Scholarship
The goal of this DOST Scholarship is to provide opportunities for Philippines students to pursue master's and doctoral; and conduct research in Alberta with support provided jointly through DOST-SEI scholarships and UAlberta – University of Alberta.
Filipino Students who are looking to Study abroad in Canada and enjoy a world-class education must consider applying to this Scholarship.
Scholarship Benefits
Scholars will receive the benefits from DOST-SET and University of Alberta under the Scholarship.
Scholarship Benefits from the DOST-SEI
Following is the list of Scholarship benefits from the Department of Department of Science and Technology, Philippines:
Tuition and other school fees;
Monthly living allowance (based on the cost of living in Alberta, Canada);
Pre-travel expenses;
One round-trip economy fare from residence to place of study (one-time only in the whole duration of the study); and
Relocation allowance.
Scholarship Benefits from the University of Alberta
The University of Alberta will provide Financial Assistance related to International student differential tuition fee.
READ: Universitas Semarang Scholarship (Indonesia) 2023 is open | Apply NOW
Eligibility Criteria for DOST SEI Alberta Scholarship
Following is the list of eligibility criteria which a student must fulfil to apply for DOST-SEI-University of Alberta S&T Graduate Scholarship 2023:
1. The applicant must be a Filipino citizen;
2. Must not be more than 50 years old at the time of application;
3. He / She must be in good health;
4. Should pass the admission requirements for graduate studies at University of Alberta;
5. Must Pass interview and screening procedures; and
6. Align the research interest with the areas/programs identified under the DOST Harmonized National Research and Development Agenda (HNRDA).
Please note that lateral entrants shall not be considered.
READ: Cambridge MBA Scholarship 2023 is open | Apply NOW
Documentary Requirements
Following are the documents required for DOST SEI Alberta Scholarship:
Scholarship Application Form
A copy of Birth Certificate (Photocopy)
Certified True Copy of the Official Transcript of Records
Endorsement from two former professors in college (For MS applicant) or two former professors in the MS Program (For PhD applicant)
If the applicant is employed, then:

Recommendation from Head of Agency
Permission to take a leave of absence (LOA) while on scholarship

Medical Certificate as to health status and fitness to study from a licensed physician with his/her PRC license number indicated
Valid NBI Clearance
Program of Study
Budgetary Requirements (with supporting document for bases of rates used)
Re-entry Plan, narrative.
Letter of Admission from University of Alberta*
READ: Harvard MBA Scholarship 2023 is open | Apply NOW
Priority Fields of Study
Following is the list of Priority fields of study covered under this Scholarship
Agricultural, Food and Nutritional Science
Animal Science
Plant Biosystems
Biochemistry
Biochemistry
Biophysics
Cellular Biology
Molecular Biology
Cell Biology
Chemical and Material Engineering
Nanomaterials and Biomaterials
Computing Science
Algorithmics, Theoretical Computing Science
Artificial Intelligence, Machine Learning
Bioinformatics
Networks and Distributed Systems
Robotics
Software Systems and Software Engineering
Earth and Atmospheric Science
Atmospheric Science
Geology
Integrated Petroleum Geosciences
Electrical and Computer Engineering
Biomedical Engineering
Integrated Circuits and Systems\Microsystems and Nanodevices
Software Engineering and Intelligent Systems
Renewable Resources
Physics
Astrophysics and Space Physics
Biophysics
Condensed Matter Physics and Materials Science
Geophysics
Particle Physics
NOTE: A doctoral or master's degree student may be considered for admission if he/she meets the academic requirements of the UAlberta (University of Alberta) Department and the Faculty of Graduate Studies and Research (FGSR), subject to the availability of an appropriate graduate supervisor for the requested field of study.
READ: DOST-SEI Scholarship 2023 is open | Apply NOW
DOST UAlberta Scholarship Service Obligation
Following is the list of Service obligation for scholars:
The scholar must return to the Philippines immediately upon completion of his/her degree program to render service physically to his/her sending institution on a full time basis for a period twice the length of time spent to complete his/her scholarship.
Any service rendered before the completion of the scholarship grant shall not be counted or considered as part of the service obligation.
How to Apply for the DOST-SEI UAlberta Scholarship
All Interested and eligible applicants can apply for DOST-SEI-UAlberta S&T Graduate Scholarship Program by visiting the DOST-SEI website.
The applicants can submit their applications at:
Science Education Institute – S&T Scholarship Division
2nd Level Science Heritage Bldg., DOST Cmpd. Gen. Santos Ave., Bicutan, Taguig City. 
Tel no.: 8330 8876, 8330 8826
Cellphone no.: 09278868816, 09215260814.
Application Deadline
The deadline to submit for DOST-SEI UAlberta Graduate Scholarship 2023 is April 15, 2023.
Important Links
Link to UAlberta S&T Graduate Scholarship Program Brochure.
Link to DOST-SEI website. For more info on Selection procedure, Priority courses and Other Scholarship conditions, visit the DOST-SEI website.
---
Get Latest Updates on Facebook
Join Owwa Scholarship Facebook Group for Philippine Scholarships, Cash Assistance programs, Civil Service Exams and Government Job updates.
---
[Source: DOST-SEI Scholarships]