Study Abroad International Scholarships 2023
If you are a Filipino who aspires to Study Abroad, then, you are at the right place. Many Filipinos dream of studying abroad, finding work, and eventually settling down to raise a family. However, when you consider the soaring expenses, the dream appears to be a distant reality.
A Scholarship can help you cover your tuition fees, living expenses, accommodation and travel expenses as well. Following are some of the most valuable International scholarships for Filipinos who are aspiring to study abroad.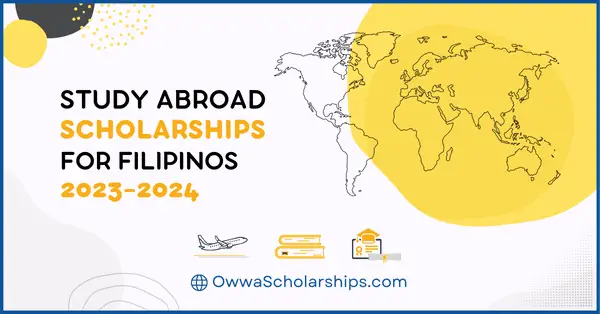 We have covered Scholarship Benefits, Qualifications, Documentary requirements, Application process and Deadlines for all the following Scholarships. You can choose your desired scholarships and apply.
International Scholarships for Filipinos
---
There are many countries which offer international scholarships for Filipinos. Recently Turkey, Australia, United Kingdom (U.K), Canada have announced their scholarships. Most of these scholarships cover the Tuition fees, Living Expenses, Accommodation expenses, Travel expenses etc.. Some Scholarships cover both Medical and Health insurance while others cover one of them.
Some of the international scholarships provide you monthly stipend and also pay for your air plane tickets to and from Philippines. The eligibility and selection criteria for these Scholarships depend on various factors like the General weighted average marks, Merit ranking, financial background of the student and many more. Scholarship value changes depending upon the course you desire to study.
Various countries provide Scholarships for pursuing MBA, Under graduate education programs, and Scholarships in STEM fields. If you wish to Study in Philippines, there are many valuable scholarships provided by various Charities, Foundations, Universities and also Government Assisted Scholarship programs. These scholarships provide the same benefits like the international scholarships.
Students who find it hard to go outside of Philippines can apply for Philippine Scholarships, Where as Students who wish to pursue education out Philippines can apply for international scholarships for which Filipinos are eligible. The choice is yours because its your Future.