Universitas Semarang Scholarship 2023 for Filipinos | Apply NOW
Universitas Semarang Scholarship 2023-2024 is open for all eligible Filipinos to Apply. Initially Established as Politeknik Semarang in the year 1987 by Universitas Diponegoro Alumni Foundation, In 1994, it was officially converted to a university with the name Universitas Semarang (USM in abbreviated).
If you are looking to Study Abroad, then you can consider Universitas Semarang (USM) Scholarship as well because a lot of International students are also seeking to pursue education at USM, Indonesia.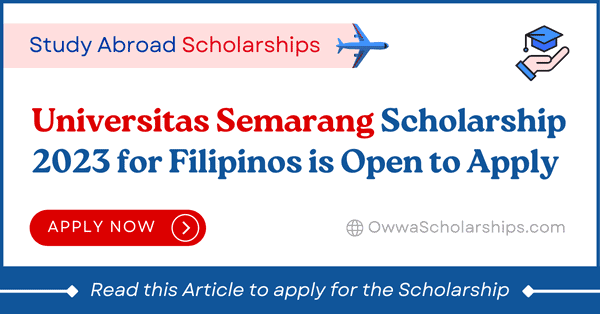 The Universitas Semarang is situated on 6.85 acres in the multicultural metropolis of Semarang, Central Java Province. USM currently has nearly 22,000 students enrolled from across the nation.
Table of Contents
About Universitas Semarang
USM hosts annual programs involving foreign students and professors to increase students' international exposure. USM encourages students to accomplish academic and non-academic goals. (sports and arts).
USM excels in science, technology, and the social sciences. The university provides diploma, bachelor's, and master's degree programs. It currently has six faculties that offer extensive specialization in each subject. The following are the faculties:
Faculty of Law
Faculty of Engineering
Faculty of Economics
Faculty of Agricultural Technology
Faculty of Informatics and Communication Technology
Faculty of Psychology
What is Universitas Semarang Scholarship
The Universitas Semarang Scholarship program is designed for foreign students only whom Universitas Semarang financially supports to pursue either undergraduate or postgraduate programs.
Scholarship submissions for the academic year of 2023/2024 are now open.
READ: Cambridge MBA Scholarship 2023 | Apply NOW
Universitas Semarang Scholarship Benefits
Following are the benefits of Universitas Semarang Scholarship:
Scholarship coverage: The awardee will receive tuition fee waiver (entry, fixed & variable) for 8 semesters, including:

Tuition Fee for Each Semester
Registration Fee
Building Fund
Fieldwork fee
Student Card issuance fee
Facilities & Infrastructure fee
Community Development Program fee
Thesis Guidance fee
Thesis Examination fee
TOEFL fee
Computer Course & Examination fee
University Convocation
Faculty Convocation

Book and Internet:

Books and literature for your study
Internet and telephone during your study.

Accommodations:

Transit hotel during the trip to/from Semarang
Boarding house or dormitory rent in Semarang
Laundry

 Meals:

Daily meals, groceries, and its kind

Health and Care:

Medical examinations & treatments during your trip from home country and your study in Semarang.
Drugs, supplements, and activities (gym/sport activities) that support your health.

Immigration Fees:

Immigration Stay Permits (ITAS) cost
Visa Fees (visa approval fee and Student Visa fee)

Transportation:

Round trip airfare from the origin country to Indonesia and domestic travel to/from Semarang,
Daily transportation during the study in Universitas Semarang.

Miscellaneous:

Academics activities, namely: internship, professional placement, student exchange and international exposure
Any other academic activities which are not covered in the International Student Scholarship.
Students, please note that all Study programs available for this scholarship.
READ: Harvard MBA Scholarship 2023 | Apply NOW
General eligibility requirements
Following are the general eligibility requirements to apply for Universitas Semarang Scholarship:
The candidate must be a High school graduate in the academic year of 2022/2023 or before that period
He / She should be 21 years old at maximum.
Documentary Requirements
If you wish to apply for the scholarship, make sure to read the following list of documentary requirements for the Scholarship:
Scan of High School Diploma
Scan of Academic Score Transcript
Scan of Scholarship Application Essay. The essay should talk about:

Reason to join this scholarship,
Reason to choose the study program.

Scan of International English Proficiency Test Certificate Equivalent to:

TOEFL PBT/ITP 450 or above for ICEP & IIEP (TOEFL CBT: 130; TOEFL IBT 0-120: 45 or IELTS: 5)
TOEFL PBT/ITP 470 or above for IFAP, IBMP, ICP (TOEFL CBT: 150; TOEFL IBT 0-120: 52 or IELTS: 5.5)

Original File of Candidate Formal Photograph
Scan of Passport valid for more than 18 Months (cover and identity page)
Scan of COVID-19 Vaccination Certificate (complete dose)
Scan of Statement Letter About Health Insurance and Quarantine Protocol for International Flight.
NOTE: It is to be noted that all documents must be in English and format in PDF or JPG. Please make sure that your documents are clear and readable.
READ: Australia Awards Scholarship 2023 | Apply NOW
Rules, Restrictions, and Facility
Following are the Rules, Restrictions, and Facility related to the Scholarship, which a student must abide to:
The awardees must not commit a felony.
The awardees must obey Indonesian laws and Regulations.
The awardees must obey the University's Rules and Regulations.
The awardees are in possession of health insurance/travel insurance which covers all medical expenses.
The awardees will not marry during the scholarship period.
The awardees will not ask for any scholarship or refugee asylum from Indonesia Government.
Once admitted by one study program/faculty, transfer to another study program/faculty is strictly prohibited.
Being punctual and focused on passing all courses offered in their program to enhance the academic outcome. Periodic assessments aim to evaluate awardees' eligibility to continue the program.
If the awardees fail to achieve a cumulative GPA 3.00, the scholarship will be discontinued.
The scholarship will be discontinued if the awardees fail to finish the study in 8 (eight) semesters.
The awardees are willing to participate in academic and non-academic activities held by the study program, faculty, or university.
During Covid-19 Pandemic, the awardees are prohibited from entering Indonesian territory without permission from Universitas Semarang.
The awardees are willing to be monitored by the health authority according to Indonesian health protocol laws and regulations.
Visa and Stay Permits (ITAS) fee borne by the awardees.
The awardees will be accompanied in choosing a boarding house if needed.
For Your Information: The awardees' parent/guardian must provide a bank statement stating that they have US$2,000 as a requirement for visa application (based on Permenkumham Number 29 Year 2021) (link given below).
How to Apply for the Scholarship
All interested and eligible candidates can visit the Universitas Semarang Scholarship portal to apply for the Scholarship. (link given below)
Students are advised to visit the Scholarship portal page for information on Resigning, Completing, and Returning Policy.
Scholarship Application Deadline
The Deadline to apply for the Universitas Semarang Scholarship is April 14, 2023.
Application Timeline
Submission of Application: November – April 14, 2023
Document Selection Announcement: May 8, 2023
Interview: May 15 – 17, 2023
Final Announcement: May 22, 2023
Permits Affairs: May 29 – July 21, 2023
Academic Registration: August 3 – 4 2023
Arrival in Indonesia: August 1 – 4, 2023
First Lecture: August 21 2023*
Important Links
Following is the list of useful and important links related to Scholarship:
---
Get Latest Updates on Facebook
Join OWWA Scholarship Facebook Group for Philippine Scholarships, Cash Assistance programs, Civil Service Exams and Government Job updates.
---
[Source: USM Scholarship]