Boustany Harvard MBA Scholarship 2023 for Filipinos | Apply Now
The Boustany Harvard MBA Scholarship 2023 is open to apply for all eligible Filipinos. As one of the most esteemed universities in the world, the Harvard MBA is a top-notch business school.
The Boustany Foundation offers the Boustany Harvard MBA Scholarship every two years for a two-year program at Harvard Business School.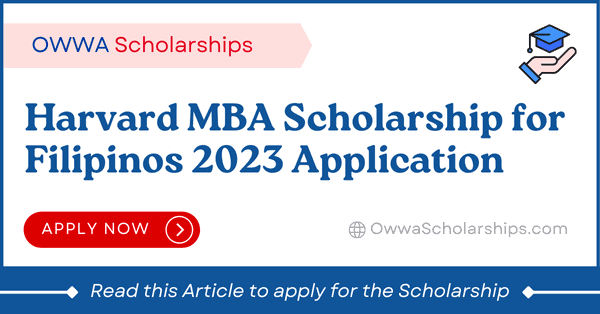 Table of Contents
Benefits of Boustany MBA Harvard Scholarship
Scholars will receive the following benefits:
Financial aid amounting to 75% of the tuition fees and
Travel and accommodation expenses related to the internship.
Qualifications for Scholarship
Following is the eligibility criteria to apply for Harvard MBA Scholarship:
Candidates must have an excellent academic background
Must show considerable promise
Note: Please note that Candidates from any country can apply for the Scholarship including Philippines, candidates of Lebanese descent will get priority during selection.
Ongoing: Manaaki New Zealand Scholarship for Filipinos 2023
Application Process
Following is the application process to apply for the Scholarship:
The Candidates who are interested in applying for the Harvard MBA Scholarship must send a copy of their curriculum vitae with a photograph, GMAT scores and acceptance letter from the University to: [email protected]
Candidates may apply for the Scholarship only after receiving an offer of admission from the Harvard MBA program.
The foundation may invite Shortlisted candidates for an interview. One candidate will then be awarded the Scholarship.
Boustany MBA Harvard Scholarship Deadline
The deadline to submit the candidacy for Boustany MBA Harvard Scholarship is 31st May 2023.
The Boustany Foundation Internship
Following is the internship details candidates must complete at Boustany Foundation
Successful scholars are expected to complete a two-month unpaid internship with the Foundation. Projects are varied and relate to the Foundation's activities or those of its partners.
Foundation will cover the Travel and accommodation expenses related to the internship.
Ongoing Scholarships for Filipinos:
---
Get Latest Updates on Facebook
Join Owwa Scholarship Facebook Group for Philippine Scholarships, Cash Assistance programs, Civil Service Exams and Government Job updates.
---
[Source: Boustany Foundation]