Manaaki New Zealand Scholarship 2023 for Filipinos | Apply Now
Manaaki New Zealand Scholarship program is open to all eligible Filipinos. This scholarship amount can be used to pay the tuition fees, living and medical expenses, travel allowances etc… These Scholarships are available for eligible citizens of developing countries to study at a New Zealand education institution or university, or at a Pacific university.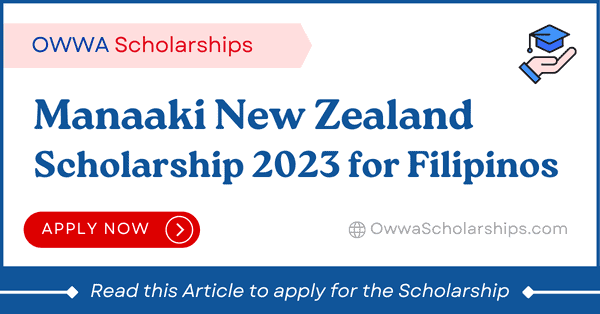 Table of Contents
Qualifications for Manaaki New Zealand Scholarship
Following are the qualifications to apply for Manaaki New Zealand Scholarship:
Applicant must be at least 18 years old
There is no upper limit for scholarship, but preferred age is below 40 years
Must be based in Philippines for two years (January 1, 2022- December 31, 2023)
Applicant must have at least one-year work experience (or two years if including internship and volunteer work)
READ: Cambridge MBA Scholarship for Filipinos 2023
Research and Study subjects
Following are the research and study subjects for the scholarship:
Climate Change and the Environment
Climate change
Climate change science
Environmental policy and planning
Environmental law
Civil engineering
Water management
Natural resource management
Disaster Risk Management
Disaster management
Emergency management
Geology
Geotechnical engineering
Food Security and Agriculture
Agribusiness
Agricultural science
Agricultural technology
Aquaculture
Farm management
Food technology
Supply chain management
READ: SM College Scholarship 2023
Renewable Energy
Energy distribution systems and technologies
Energy management
Energy policy
Geothermal, hydroelectric, hydrothermal, solar and wind energy
Governance
Government Services: Public policy, public service management
Peace and conflict studies
Indigenous studies
Manaaki New Zealand Scholarship Benefits
The benefits of Manaaki New Zealand Scholarship are as follows:
Full tuition fees
Living expenses
Establishment allowance
Medical insurance
Travel insurance and
Travel expenses to and from Philippines
Manaaki New Zealand Scholarship Application
To apply for Manaaki New Zealand Scholarship, check your eligibility from here: https://scholarship.force.com/Scholar/s/eligibility-test.
Apply for Scholarship at New Zealand Scholarships website.
Deadline
Opening date of Scholarship is February 1, 2023 12.00am NZT and
The Deadline to apply for Manaaki New Zealand Scholarship is February 28, 2023 12.00pm (midday) NZT
For more details, visit New Zealand Scholarship website.
---
Get Latest Updates on Facebook
Join Owwa Scholarship Facebook Group for Philippine Scholarships, Cash Assistance programs, Civil Service Exams and Government Job updates.
---