SM Scholarship 2023 to 2024 Online Application | Apply Now
The goal of the SM Scholarship is to break the poverty cycle in the Philippines by providing educational grants to deserving but underprivileged students. To maintain this aim, SM Foundation has welcomed new scholars from all throughout the nation this year.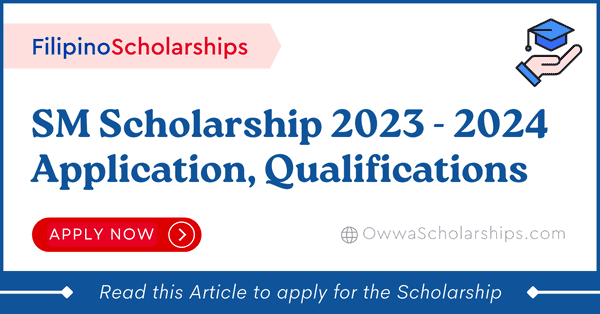 The SM College Scholarship is a two-decade program that firmly believes that once a family member graduates from college, he or she can now assist his or her siblings in attending school in order to serve and lift their families out of poverty.
Table of Contents
Qualifications for SM Scholarship 2023
Following are the qualifications of SM Scholarship
Grade 12 graduates from public and private schools in the areas covered.
Applicants from private schools must have a DepEd voucher and must be Grade 10 finishers from public high schools.
General weighted average grade of at least 92% or its equivalent for Grade 12 – 1st semester.
Total household income of at most P150,000 per year.
READ: Hawak Kamay Scholarship 2023 is open | Apply NOW
SM Scholarship Requirements
Following are the requirements to apply for this Scholarship
Birth Certificate
2×2 ID picture
Latest Grade 12 report card
Sketch of home to the nearest SM Mall
Accomplished online application form
Parent's or Guardian's Latest Income Tax Return / Certification of Non-Filing of Income / Certificate of Indigency
SM Scholarship Benefits
Following are the benefits of SM Scholarship 2023-2024
Full Tuition Fees
Monthly Allowances
Choice of specialization in accounting, information technology, engineering and education
Exclusive job offers with the SM group upon graduation.
Part-time job opportunities during semestral and Christmas break
Other fun-filled activities and enrichment programs.
READ: Cambridge MBA Scholarship 2023 is open | Apply Now
Courses Covered
Following are the Courses offered under this Scholarship
BS in Computer Science
BS in Information Technology
BS in Electronics and Communications Engineering
BS In Electronics Engineering
BS Electronics Engineering
BS in Computer Engineering
BS in Civil Engineering
BS in Electrical Engineering
BS in Mechanical Engineering
BS in Accountancy
BS in Accounting Technology
BS in Accounting Information Systems
BS in Internal Auditing
BSBA in Financial Management
BSBA in Management Accounting
BS in Elementary Education
BS in Secondary Education major in Biology, Chemistry, General Sciences, Physics, Mathematics, English
READ: Vivant Foundation STEM Scholarship 2023 is open | Apply NOW
Application Deadline
The application for SM Scholarship starts on February 1, 2023
The Deadline to apply for SM Scholarship is March 30, 2023
How to Apply for SM Scholarship (Step-by-Step Guide)
The following is a step-by-step guide to becoming an SM Foundation Scholarship:
1. Application Form Online
Go to SM Scholarship website on your computer with a good internet connection. Click the STUDENT tab on the landing page, then click the Register button. Complete the online application form and upload all required documents.
Log in to the SM Scholarship Online System within 7 days of submitting your online application to confirm your scholarship application. Failure to confirm your application with in this time period will render your application form.
2. Application Processing and Evaluation
Your application form and other documents will now be assessed and evaluated by the Foundation. Wait for an e-mail notification indicating whether you are qualified or whether your application is invalid or has missing requirements.
3. Pass the Online Exam
After confirming your online application, you will receive the examination schedule by email within 15 days. The results of the exams will be announced on the sameday.
4. Online Interview
Exams will be interviewed via Google Meet by the SM Foundation. The interview schedule and results will be provided via email.
5. Virtual Home Visit
After completing the exam and interview, the SM Foundation team will make random virtual home visits to people who passed the interview via Google Meet.
6. Course Selection and School Confirmation
You will be contacted for confirmation of your desired course and school after completing all of the following Steps.
7. Orientation and Contract Signing
You will receive an email informing you of the orientation schedule.
Areas Covered under this Scholarship
Luzon

NCR, Albay, Bataan, Batangas,Benguet, Bulacan, Cagayan, Camarines Norte, Camarines Sur, Cavite, Isabela, Laguna, Nueva Ecija, Palawan, Pampanga, Pangasinan, Sorsogon, Quezon, Rizal, Tarlac, Zambales

Visayas

Capiz, Cebu, Iloilo, Leyte, Negros Occidental

Mindanao

Agusan del Norte, Davao del Sur, Misamis Oriental, South Cotabato, Zamboanga del Sur
SM Scholarship Video Guide
Have any Questions?
Join our Facebook group for Philippine Scholarships, Cash Assistance programs, Civil Service Exams and Government Job updates.