Australia Awards Scholarship for Filipinos 2023-2024
Australia Awards Scholarship program is open to all eligible Filipinos. This scholarship amount can be used to pay the tuition fees, living and medical expenses, travel allowances etc… Australia's international development assistance in the Philippines promotes prosperity, alleviates poverty, and strengthens political stability.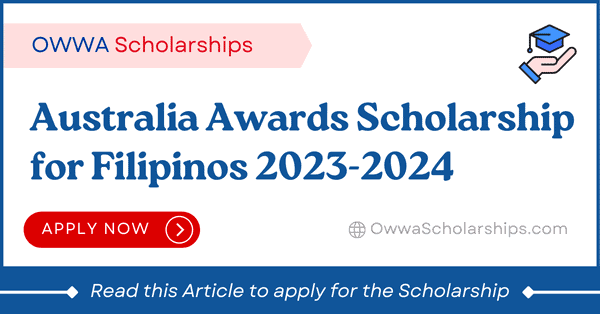 Table of Contents
What is Australia Awards Scholarship
The Australian Government provides prestigious international scholarships to the next generation of global leaders for development through the Australia Awards program. Recipients gain the skills and knowledge needed to drive change and help build long-term people-to-people links with Australia through study and research.
Applicants are evaluated based on their professional and personal qualities, academic competence, and, most importantly, their potential to impact Philippine development challenges.
Women, people with disabilities, and other marginalized groups are strongly encouraged to apply for the Scholarship.
READ: Manaaki New Zealand Scholarship for Filipinos
Benefits of Australia Awards Scholarship for Filipinos
Following are the benefits of Australia Awards Scholarship for Filipinos
Full tuition fees,
Introductory academic program(IAP) – a compulsory program prior to the commencement of formal academic studies covering information on living and studying in Australia,
Supplementary academic support to ensure a scholar's academic success or enhance their academic experience
Contribution to living expenses,
A one-off establishment allowance on arrival for accommodation expenses, text books, study materials
Overseas student health cover for the duration of the scholarship,
A return air travel to and from Philippines to Australia via the most direct route,
Fieldwork allowance for research students and masters by coursework which has a compulsory fieldwork component, and
Disability support (as needed).
Priority fields of Study
The priority areas of study for the Philippines are:
Agriculture, Aquatic, and Natural Resources Management (including Maritime, Mining, and Energy)
Digital Economy and Cyber Security
Education
Foreign Relations
Governance and Public Policy (including Civil Society, Media, and Foreign Relations)
Health (including Public Health and Mental Health)
Humanitarian, Disaster Risk, and Climate Change Management
Law and Justice
Infrastructure and Smart Cities
Peace and Development
Trade and Economics
READ: SM College Scholarship 2023
Eligibility for the Scholarship
Following are the eligibility requirements to apply for the scholarship:
Australia Awards applicants must meet all eligibility requirements detailed in the Australia Awards Scholarships Policy Handbook, available at:
In addition to the eligibility requirements, candidates from the Philippines must also meet the following conditions:
resident of the Philippines for at least 12 months,
has at least two years' cumulative work experience,
not hold another scholarship,
master's degree holder (for doctoral applicants), and
John Allwright Fellowship – Philippines requirements (for doctoral applicants)
Documentary Requirements
Following are the documentary requirements to apply for the scholarship:
The Re-entry Action Plan (REAP): Outlines a project, which applies the knowledge and skills gained from the applicant's
Australian education and training towards Philippine development;
An Affidavit of citizenship and residency;
Certification of Grade Point Average/General Weighted Average; and
Letter from the head of agency endorsing the scholarship application, and the minutes of meeting of the scholarship
Committee endorsing the nominees (for targeted category applicants only).
READ: DCWD College Scholarship
Level of Study in Australia
Australia Awards scholarships allows Filipino citizens to pursue a degree at an Australian tertiary institution. Awards will be offered for commencement in January 2024 within the following allocations:
Master's:

Open category – Individuals who intend to pursue studies in the identified priority areas of study
Targeted category – Applicants nominated by partner Philippine government agencies whose respective mandates support the mutual priorities of Australia and the Philippines and the Philippine Development Plan

Doctoral:
Applicants pursue studies in priority areas aligned with ongoing Australian Centre for International Agricultural Research (ACIAR)–Philippine Council for Agriculture, Aquatic and Natural Resources Research and Development (PCAARD) projects
How to Apply for Australia Awards Scholarship
Interested applicants can apply for Scholarship by visiting the Australia Awards Government website.
Visit the above link to apply for scholarship and for more details regarding the Scholarship.
Application Deadline
The opening date of applications for scholarship is February 1, 2023
The Deadline to apply for Australia Awards Scholarship is May 1, 2023 (11:59PM AEST)
---
Get Latest Updates on Facebook
Join Owwa Scholarship Facebook Group for Philippine Scholarships, Cash Assistance programs, Civil Service Exams and Government Job updates.
---
[Source: Australia Awards website, Australia Awards FB]