GKS Scholarship – Global Korea Scholarship 2023 | Apply Now
GKS Scholarship is a Global Korea Scholarship program for Graduate Degrees open to all eligible Filipinos. To promote international exchange in education and deepen mutual friendship among countries, the Korean government scholarship program will provide 1,300 students from 139 regions with opportunities to study at higher educational institutions in Korea for graduate-level degrees, doctoral-level degrees, and research programs.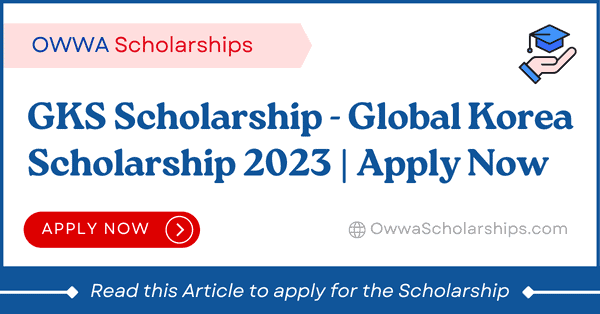 Table of Contents
GKS Scholarship Benefits
Following are the benefits of GKS Scholarship – Global Korea Scholarship 2023:
Monthly stipend,
Tuition fees,
Settlement allowance,
Scholarship Completion Grants,
Round trip airfare tickets to and from the Philippines,
Korean language training expenses and
Medical insurance.
Number of Scholars in GKS Scholarship
Fourteen (14) students from the Philippines (Embassy Track) will be chosen to complete the graduate program at prestigious Korean universities.
Ongoing Scholarship: Australia Awards Scholarship for Filipinos 2023
Scholarship Programs and Period
Following are the Scholarship programs offered by GKS Scholarship
Master's Degree Program: 3 years (1 year of Korean language program + 2 years of degree program)
Doctoral Degree Program: 4 years (1 year of Korean language training + 3 years of degree program)
GKS Scholarship documentary requirements
Following are the documentary requirements of GKS Scholarship
An Applicant must submit a total of two envelopes only (One (1) envelope for the original documents and one (1) envelope for the three (3) photocopied sets)
The recommendation letter must be sealed and signed by the recommender (only ONE recommendation letter is required)
All documents must be A4 sized (please see guidelines for documents not in A4 size)
Applicants must submit an official bachelor's degree graduation certificate (or Diploma), and this document must include the date of your graduation.

The graduation date must be prior to February 28, 2023
Provisional graduation certificate (certificate of expected graduation) or provisional degree certificate will not be accepted as a graduation certificate

All submitted documents will not be returned to applicants.
Ongoing Scholarship: Manaaki New Zealand Scholarship 2023 for Filipinos
Where to Apply
The applicants must submit the required documents by mail (read instructions below) to the following address:
c/o GKS In-charge
Embassy of the Republic of Korea
122 Upper McKinley Road,
McKinley Town Center,
Fort Bonifacio, Taguig City 1634
*Other consular offices do not receive applications
Courier / Delivery Instructions
Following are the Courier/Delivery instructions an applicant must follow:
Documents will be accepted through mail courier services (i.e. LBC, DHL, JRS, etc.)
If you will be sending via same day courier (Grab/Lalamove/etc.) please input the following details:
Recipient's name: GKS In-charge
Contact number: (02) 8856-9210
IMPORTANT FOR GRAB/LALAMOVE DELIVERY: Please note to the rider that there is NO NEED TO CALL the number given, and to leave the documents with the embassy guards upon arrival.

You may drop off your own documents at the Embassy gate and guards. No applicants are allowed to enter the Embassy.

Kindly label your applications with your names and "GKS Application" for the reference of our Embassy guards.
The Embassy is not liable for any loss of document/s that is caused by same-day delivery riders or mail couriers.

Applications sent through email or facsimile are not allowed.
GKS Scholarship 2023 Deadline
Opening date of GKS Scholarship application is February 10, 2023
The Deadline to apply for GKS Scholarship is February 28, 2023 (no later than 4:00 pm)
Note: For important reminders and application process of Global Korea Scholarship 2023, visit https://overseas.mofa.go.kr/ph-en/brd/m_3272/view.do?seq=760910&page=1
---
Get Latest Updates on Facebook
Join Owwa Scholarship Facebook Group for Philippine Scholarships, Cash Assistance programs, Civil Service Exams and Government Job updates.
---
[Source: Embassy of the Republic of Korea in the Republic of the Philippines ]