UP Admission 2024-2025 | Ultimate Guide for Admission at University of the Philippines
UP Admissions is Open in 2024-2025. Students who aspire to join University of the Philippines to pursue their education can apply for Admission in the UP. The University of the Philippines (UP) is the country's premier institution.
This prestigious institution of higher learning was founded in 1908 and is now a university system comprised of eight constituent universities spread across the archipelago on 17 campuses.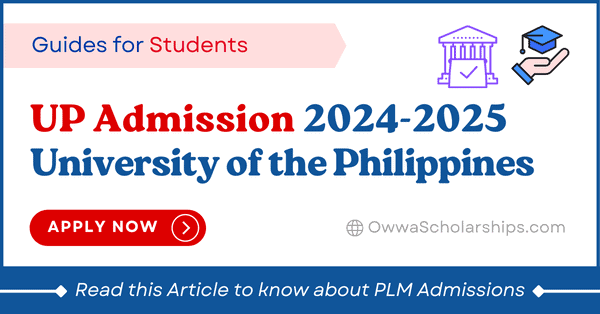 As of 2020, the Commission on Higher Education has designated 41 university units as Centers of Excellence, with 5 units designated as Centers of Development. As the main State University, UP offers a diverse range of degree programs. Specific degree programs are only available on one campus (for example, BS Nursing and BA Filipino), whereas others are available on two or more campuses (e.g., B Fine Arts, BS Statistics).
Table of Contents
How to get UP Admission in 2024
There are 4 ways a student can get admission in University of the Philippines – UP, which are as follows:
UP College Admission Test (UPCAT)
The Iskolar Ng Bayan Program
Meeting International Qualifications
Transfer Admissions (not for First year applicants)
Let us know each of these ways in a clear and elaborative way
UP College Admission Test (UPCAT)
A student can take Admission in UP – University of the Philippines by clearing the UPCAT exam. UPCAT means UP College Admission Test (UPCAT).
The UPCAT test primarily consists of 4 subtests:
Language Proficiency (in English and Filipino),
Reading Comprehension (in English and Filipino),
Science, and
Mathematics.
The admission score ("UPG") is determined by combining standardized UPCAT scores with a composite of final grades from Grades 8 to 11. In order to implement the policy of democratic access, UP takes socioeconomic and geographic factors into account during the admissions process.
To know more about UPCAT, read our dedicated article. In the dedicated article we have covered Eligibility criteria, Documentary requirements and Step-by-step Application process.
Here is the link to UPCAT 2024 Application Step-by-step Guide.
The Iskolar Ng Bayan Program
Once can take admission at UP by availing Iskolar Ng Bayan Scholarship. A student may apply for the Iskolar ng Bayan Law of 2014 (INB) program if he/she is a Filipino public high school graduate who ranks in the top ten of your graduating class.
To qualify for the UP campus where you will file an INB application, you must have a UPG that is greater than or equal to the designated minimum (except for UP Open University).
You must also meet all of the requirements of the degree program specified in your INB application form and offered by such UP campus. The relevant UP campus will provide a list of priority programs to help you choose a degree program.
It is to be noted that:
Application forms for the INB program can be obtained from the campus's Office of Student Affairs (OSA) or Office of Scholarships and Grants (OSG).
The Iskolar ng Bayan Program has a limited number of slots available on each campus.
READ: Hawak Kamay Scholarship 2023 | Apply NOW
Meeting International Qualifications
Students from Foreign countries (or) Filipino students who have graduated or are about to graduate from a secondary school abroad (i.e., international applicants) and have not enrolled in college before SY 2024-2025 may be admitted as first-year students by automatic admission.
To be eligible for automatic admission, the students must meet certain admission requirements. These include qualifications for college admission by national or international foreign-administered examinations. For more information, you can visit the University of the Philippines's Admission Portal (link given below)
READ: DOH Medical Scholarship 2023 | Apply NOW
Transfer Admissions (not for First year applicants)
Students from other universities may apply for transfer to a UP campus after achieving 33 academic units at another institution with a weighted average of 2.00 or higher on the UP grading system.
A student can get more information regarding transfer procedures to University of the Philippines from the respective UP campuses' Offices of the University Registrar.
READ: PhilFrance DOST Scholarship 2023 | Apply NOW
General Eligibility Requirements for UP Admission
Following is the general eligibility criteria a student must fulfil to apply for admission in University of the Philippines:
The applicant must be a senior high school student expecting to graduate before SY 2024-2025 from a DepEd-accredited high school or an accredited secondary school abroad; OR
Must be a Graduate of a DepEd-accredited high school or accredited secondary school abroad; AND
The student must have final grades for Grade 8, 9, 10 and Grade 11;
Must not have taken any college subject/s prior to the opening of SY 2024-2025;
He / She must not have taken the UP College Admission Test in the AY 2020-2021 intake or earlier; AND
Must not have applied and completed the UP College Application for the AY 2021-2022 (UPCA 2021), AY 2022-2023 (UPCA 2022), or the AY 2023-2024 (UPCA 2023) intake.
Application Deadline
The opening date for UP Admission application is March 8, 2023.
The deadline of filing applications for UP Admission is April 15, 2023.
Important Links
---
Get Latest Updates on Facebook
Join OWWA Scholarship Facebook Group for Philippines Scholarships, Study Abroad Scholarships for Filipinos, Announcements, Exams and Job updates.
---
[Source: University of the Philippines (UP)]