Canada-ASEAN Scholarships 2023 for Filipinos | Apply Now
The Canadian government announced the Canada-ASEAN Scholarships and Educational Exchanges for Development (SEED) program, which will allow students from ASEAN member countries which includes Philippines, to conduct short-term study or research in Canadian post-secondary institutions in areas that contribute to the implementation of the 2030 Agenda for Sustainable Development.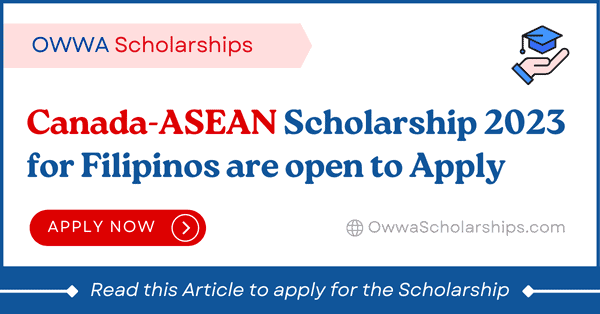 Scholarships and Educational Exchanges for Development (SEED) program scholarships are accomplished through institutional collaborations and student exchange agreements between post-secondary institutions in Canada and their ASEAN counterparts.
Filipinos who are interested to Study Abroad can apply for this Scholarship. The Canada-ASEAN Scholarships and Educational Exchanges for Development Program is part of Global Affairs Canada's International Scholarships Program.
Table of Contents
Canada-ASEAN Scholarship 2023 Benefits
Following are the benefits of Canada-ASEAN Scholarship:
Scholars will receive scholarships aids between $10,200 (₱406,000*) – $15,900 (₱633,000*) depending upon the duration of their course. Students can use these funds to cover the following expenses:
Books and supplies required for their study or research, excluding computers and other equipment
Visa or study/work permit fees
Airfare via the most direct and economical route
Health insurance
Living expenses, such as accommodation, utilities and food
Ground transportation, including a public transportation pass
*depends upon the currency conversion rates from Canadian Dollars to Philippines Pesos.
READ: Cambridge MBA Scholarship 2023 | Apply Now
Eligibility for Canada-ASEAN Scholarship
Following is the eligibility criteria for students to apply for Canada-ASEAN Scholarship:
To be eligible, the applicant must be:
Citizen of an ASEAN member state:

Brunei Darussalam, Cambodia, Indonesia, Laos (Lao People's Democratic Republic (Lao PDR)), Malaysia, Myanmar, The Philippines, Singapore, Thailand, or Vietnam

Must be a student enrolled full-time at a post-secondary institution in an ASEAN member state
Must be paying tuition fees to that institution at the time of application and for the full duration of your exchange
Non eligibility
Students are not eligible for this scholarship if:
you hold or have a pending application for Canadian citizenship or permanent residency
you are already participating in a scholarship program funded by the Government of Canada
you are already enrolled in a degree, diploma or certificate program at a Canadian post-secondary institution
you have previously received a scholarship under the Canada-ASEAN Scholarships and Educational Exchanges for Development Program
READ: Australia Awards Scholarship 2023 | How to Apply
Supporting Documents
Following are the supporting documentary for Canada-ASEAN Scholarship 2023
Proof of citizenship
Signed Privacy Notice Statement
Letter of intent from the candidate (maximum one page)
Letter of proof of full-time enrolment from the home institution
Letter of support from the home institution (maximum one page)
Letter of invitation from the Canadian supervisor (graduate students only, maximum one page)
Signed copy of Memorandum of Understanding (MOU) or Agreement with the partner institution
A ranking of applications
READ: Harvard MBA Scholarship 2023 | Apply Now
Scholarship selection criteria
The students selection criteria for the applications is based on:
the linkage of the proposed research or study that the student will undertake in Canada to the 2030 Agenda for Sustainable Development
the candidate's commitment to use their proposed research or studies in Canada to help combat poverty and narrow the development gap in the ASEAN region
benefit to the home institution and peers
benefit to the Canadian institution, supervisor and peers
merit of the research or study to be undertaken in Canada
strength of the linkages to be created through the proposed exchange
rankings submitted by the Canadian institution
Application Deadline
The deadline for Canadian institutions to submit online applications on behalf of candidates is 11:59 p.m. EDT, March 28, 2023.
Please note that Students can contact the institutions for the deadline and apply accordingly as early as possible before the deadline date.
How to Apply for the Canada-ASEAN Scholarship
All Interested Filipinos who wish to apply for the Scholarship can visit the EduCanada website to know complete details about the Scholarship, Study Duration and its Application process.
---
Get Latest Updates on Facebook
Join OWWA Scholarship Facebook Group for Philippine Scholarships, Cash Assistance programs, Civil Service Exams and Government Job updates.
---
[Source: EduCanada]