Turkiye Scholarship for Filipinos 2023-2024 | Apply Now
Turkiye Scholarship program is open to all eligible Filipinos. This scholarship amount can be used to pay the tuition fees, living and medical expenses, travel allowances etc…Türkiye offers scholarships are awarded to international students from all over the world including Philippines, to study at the country's most prestigious universities.
Türkiye Scholarships are government-funded, competitive scholarships awarded to outstanding students and researchers to pursue full-time or short-term programs at Türkiye's top universities.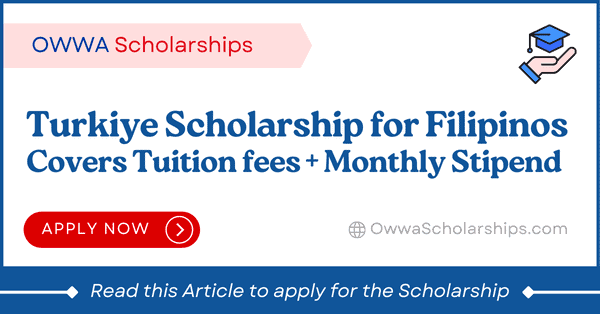 Table of Contents
Benefits of Turkiye Scholarship
Turkiye Scholarship offers a variery of benefits to its scholars which are as follows:
Covers Tuition Fees
Provides Monthly stipend

700 TL at undergraduate level, (₱2000*)
2400 TL at Master's level (₱7000*) and
3000 TL at PhD level per month (₱8500*).

Provides Accommodation for students
1 year Turkish language course
Easy access to Health services with Health Insurance
Covers once-off flight ticket to or from Philippines and
University and department placements unlike other higher education scholarship programs
READ: Cambridge MBA Scholarship 2023 for Filipinos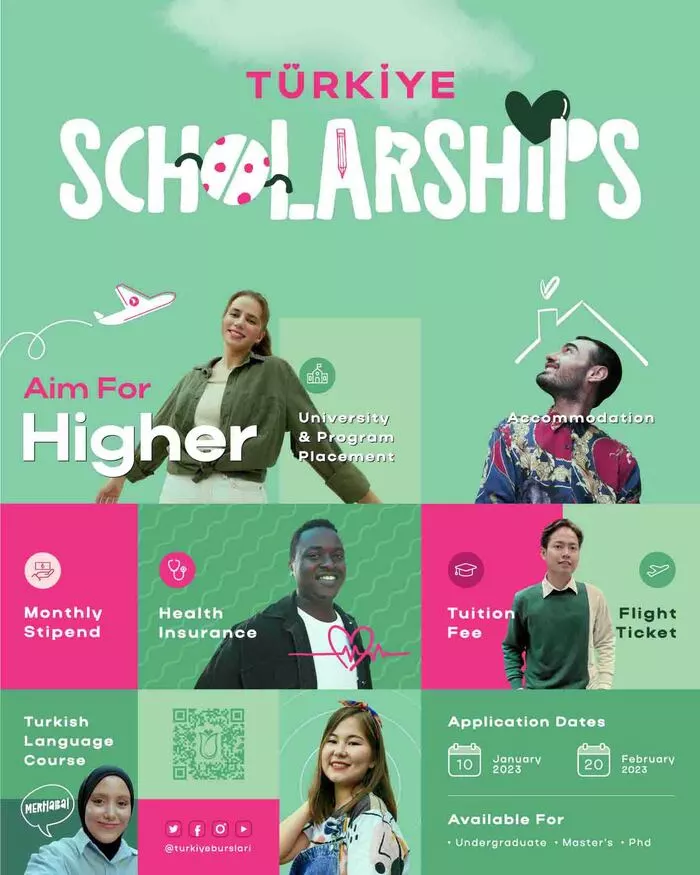 Eligibility for Turkiye Scholarship
Following are the qualifications to apply for Turkiye Scholarships
Eligibile Groups
Citizens of all countries
Graduates or those who will graduate at the end of the current academic year (before August 2022)
Researchers and academics
Application Criteria
Minimum Academic Achievement
For undergraduate candidates: 70%
For graduate candidates: 75%
For candidates of Health Sciences (Medicine, Dentistry and Pharmacy): 90%
Age Criteria
For undergraduate programs: being under the age of 21
For master's programs: being under the age of 30
For PhD programs: being under the age of 35
For Research Scholarship: being under the age of 45
READ: Harvard MBA Scholarship 2023 for Filipinos
Documentary requirements
Following are the documentary requirements to apply for Turkiye Scholarship:
For applications made online through the Türkiye Scholarships Application System (TBBS), all candidates must upload the following documents to the system:
A valid identity document of the applicant, ID card or passport
A photograph of the candidate taken within the last 1 year
National exam results of applicant (if any)
Diploma or temporary graduation certificate
Transcript
International exam results (GRE, GMAT, SAT, etc.) if required by the chosen university or program
A proposal for a research topic and a written example of the research you have carried out (only for PhD applications)
International language test results such as TOEFL, DELF if required by the chosen university or program
Application Deadline for Turkiye Scholarship
The opening date of applications is January 10, 2023
The deadline to apply for Turkiye Scholarship is February 20, 2023
How to Apply
All interested applicants can understand the application process from the link below
https://www.turkiyeburslari.gov.tr/
---
Get Latest Updates on Facebook
Join Owwa Scholarship Facebook Group for Philippine Scholarships, Cash Assistance programs, Civil Service Exams and Government Job updates.
---
*Depending on exchange rates.
[Source: Turkiye Scholarships Burslari]