Vivant Foundation Stem Scholarship 2023 | Apply Now
Vivant Foundation has announced the launch of STEM Scholarship 2023 program for deserving Filipino students who are interested to pursue their education in the fields of Science, Technology, Engineering and Mathematics (STEM) degree programs in college.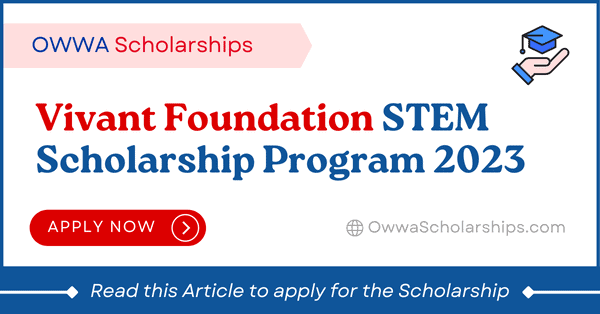 The Vivant Foundation is the corporate social responsibility arm of the Vivant Group, a business organization that invests in energy and infrastructure. The Vivant Group, including its corporate foundation, conducts its day-to-day operations with the core values of honor, excellence, and relationships as guiding principles.
Table of Contents
Vivant Stem Scholarship 2023 Benefits
Following are the benefits of Vivant Foundation STEM Scholarship:
Full Tuition Fees (including summer classes)
Books Allowance
Living Allowance
Transportation Allowance
School Uniform Allowance
Graduating Clothing Allowance
Miscellaneous Allowance
Boat / Plane Subsidy
READ: Cambridge MBA Scholarship 2023 | Apply Now
Qualifications for Vivant STEM Scholarship
Following are the qualifications to apply for Vivant Foundation STEM Scholarship 2023:
The applicant must be a graduating senior high school student within Region VII
He / She should have at least 90% average for each of the grading periods immediately preceding assessment or screening,
Must not have grade per subject lower than 85%; and
Must have active participation in the Regional Science and Technology Fair (RSTF)–7 within the last 4 years up to the year of screening is a plus but not necessary.
Should have a total family household income of at most P200,000 per year.
The applicant must enroll in STEM-related Courses in partner schools.
READ: LandBank Scholarship 2023 | How to Apply
Documentary Requirements
Following are the documentary requirements for Vivant Foundation STEM Scholarship 2023
Must submit a Soft copy of Grade 12 Form 138 or Report Card, as applicable;
A Soft copy of Certificate of Good Moral, as applicable; and
A Soft copy of PSA-certified Birth Certificate.
Soft copy of parent's ITR issued by the BIR; if the absence of ITR, the applicant must submit Certificate of Indigency issued by the Barangay.
Application Deadline
The Scholarship is open to Apply for all eligible Filipinos now
The Deadline date to apply for Vivant Foundation STEM Scholarship 2023 is April 14, 2023
How to Apply for the Scholarship
Applicants will go through a Pre-screening selection process to be eligible to apply for the Scholarship:
Interested applicants must fill out the google form application and upload the pre-screening requirements in the link below.
Deadline for submission of applications both for Cebu and outside Cebu is APRIL 14, 2023 @ 5 P.M.
Link to Google form: https://bit.ly/3HNH6HK .
Please Note that All the Documents should be uploaded in PDF format.
Link to Downloadable Essay Template .
---
Get Latest Updates on Facebook
Join OWWA Scholarship Facebook Group for Philippine Scholarships, Cash Assistance programs, Civil Service Exams and Government Job updates.
---
[Source: Vivant Foundation Inc.]