Iskolar Ng Landbank Scholarship 2023 | How to Apply
Iskolar Ng Landbank Scholarship 2023 has been announced for all Eligible Filipinos. The Land Bank of the Philippines (LANDBANK) today launched a new scholarship program to assist deserving dependents of agrarian reform beneficiaries (ARBs), small farmers, and fisheries across the country.
The Bank has allocated a total of P128 million under the "Iskolar ng LANDBANK Program" to cover the educational expenses of 360 scholars from 2023 to 2028.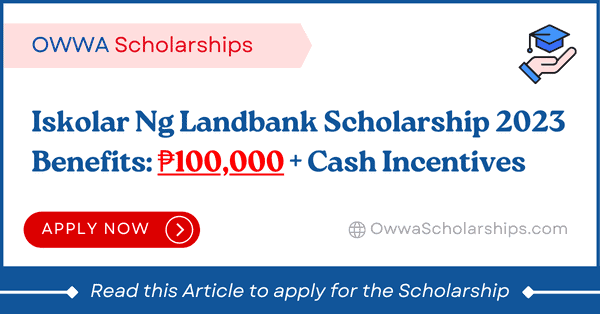 Table of Contents
The theme of the Iskolar ng LANDBANK Program is "600@60: Developing Scholars and Nurturing Talents Toward Serving the Nation," representing the Bank's target of 600 scholar graduates (including graduates from the Bank's previous scholarship program) in celebration of LANDBANK's 60th anniversary this year.
Iskolar Ng Landbank Scholarship 2023 Benefits
Following are the benefits of Iskolar Ng Landbank Scholarship:
₱100,000 per year to cover allowance and expenses for books, clothing, and other course requirements
Special cash incentives for scholars who will graduate with honors.
Iskolar Ng Landbank graduates will also be offered on-the-job (OJT) training in LANDBANK Branches and Lending Centers, including the Bank's partner agencies and institutions.
READ: Apply for Hawak Kamay Scholarship 2023
Qualifications to apply for Iskolar Ng Landbank Scholarship
Following is the eligibility criteria which applicants must follow to apply for Iskolar Ng Landbank scholarship:
The applicant must be children and grandchildren of agrarian reform beneficiaries (ARBs) and small farmers and fishers who are high school graduates.
The applicant must have a minimum average grade of 90% or belonging to the top 10% of their class.
Number of Scholars to be given Scholarships
Beginning this year and continuing until 2028, the Iskolar Ng Landbank Scholarship will support 60 new Filipino scholars each year.
READ: DCWD College Scholarship 2023 | Apply Now
Eligible Courses
Following are the 12 eligible courses which a student can choose to apply for the Scholarship:
Horticulture,
Animal science,
Food technology,
Data analytics,
Information technology,
Accounting,
Agribusiness management,
Agricultural,
IT,
Industrial or management,
Civil engineering and
Mechanical engineering
Partner State Colleges and Universities
The state-run bank will initially collaborate with 12 State Colleges and Universities (SUCs) across the country to accommodate scholars in the NCR, Northern, Central, and Southern Luzon, Visayas, and Mindanao.
---
Get Latest Updates on Facebook
Join Owwa Scholarship Facebook Group for Philippine Scholarships, Cash Assistance programs, Civil Service Exams and Government Job updates.
---
[Source: LandBank of the Philippines]