UPCAT 2024 Application – UP College Admission Test Online
UPCAT 2024 means University of the Philippines (UP) College Admission Test. As the main State University, UP offers a diverse range of degree programs. Specific degree programs are only available on one campus (for example, BS Nursing and BA Filipino), whereas others are available on two or more campuses (e.g., B Fine Arts, BS Statistics). The majority of these require qualifying an Entrance exam i.e., UP College Admission Test (UPCAT).
Table of Contents
The University of the Philippines' Office of Admissions has issued a statement on the 2024 UP College Admission Exam (UPCAT). After being postponed in 2020 because to the COVID-19 epidemic, the UPCAT 2024 will be held face-to-face nationwide in Academic Year 2024-2025, according to a UP announcement on February 15.
UPCAT 2024 Announcement
Following are the important details mentioned in the UPCAT announcement:
The UPCAT 2024 application period for the current year will begin in the first week of March 2023, with online portal Form 1. (Applicants Personal Data).
The University of Philippines in the announcement said "All applications are to be done online and applicants need to encode their grades for Grades 8, 9, 10, and 11 in the UPCAT online portal".
The post also added "Though applicants may still be in Grade 11 when they apply, exam takers will encode their grades online only in September 2023 when Grade 11 grades are final and complete".
The university also announced that in September 2023, the Office of Admissions will request formal grades from candidates' specific schools so that they can be validated.
Students in grade 11 who will graduate from high school at the end of the 2023-2024 academic year are eligible to apply.
READ: LandBank Scholarship 2023 Application
UPCAT 2024 Exam Dates
The UP College Admission Test will be held on June 3, 2023 and June 4, 2023 at more than 100 test venues across the country, according to the University of the Philippines.
The qualifiers of UPCAT 2024 shall be admitted to the University of Philippines in the first semester of Academic year 2024-2025.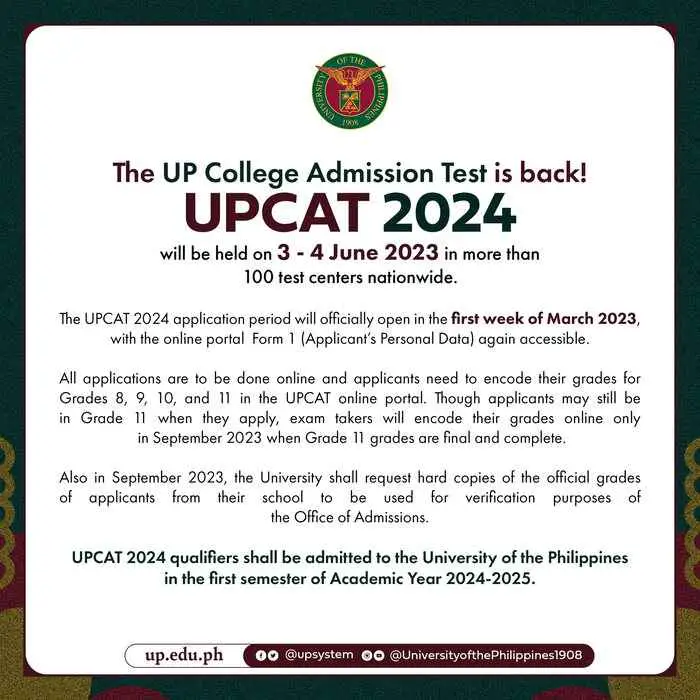 READ: DCWD College Scholarship 2023 Application
What is UPCAT 2024
As you know UPCAT is the College Admission Test of University of Philippines. To maintain its high educational standards while maximizing its limited resources, UP has had to limit freshman enrollment slots to each campus and its numerous degree programs.
The UP College Admission Test is divided into four sections:
Language proficiency,
Science,
Mathematics, and
Reading comprehension.
To qualify for UP Entrance Exam, standardized results on these subtests are coupled with a weighted average of final grades from the first three years of high school.
Please note that:
There is no minimum high school average grade requirement for taking the UPCAT.
The UPCAT 2024 can be taken only once.
READ: SM College Scholarship 2023 Application
UP Oblation Scholarship Benefits
The UP Oblation Scholarship has been given to the top fifty UPCAT qualifiers since 1991.
The Scholarship benefits include:
Free Tuition fees,
Monthly Incentives,
Miscellaneous expenses,
Laboratory fees,
A Semestral book subsidy, and
Transportation allowance
Recipients may continue to receive the UP Oblation Scholarship for the standard length of time required to complete their chosen degree program, as long as they maintain the required grade point average. Nevertheless, only the first four years of the accelerated medical curriculum (INTARMED) are covered by this scholarship.
How to Apply for UPCAT 2024
UPCAT 2024 Online Application can be Filled in 5 easy steps. To know the application process, go to UPCAT 2024 Step-by-Step Application guide.
Deadline
The UPCAT application period for the current year will begin in the first week of March 2023, with online portal Form.
The deadline for UPCAT 2024 is April 20, 2023.
---
Get Latest Updates on Facebook
Join OWWA Scholarship Facebook Group for Philippine Scholarships, Cash Assistance programs, Civil Service Exams and Government Job updates.
---
[Source: University of Philippines]