Aboitiz College Scholarship 2023 | Apply Now
Apply for Aboitiz College Scholarship, a Scholarship program started by Aboitiz Foundation to help Filipino students pursuing STEM or business-related degree as an incoming freshman for the upcoming semester.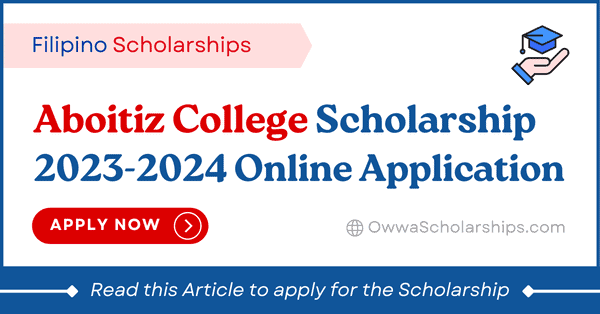 The Aboitiz Scholarship can be used to pay for tuition, accommodation, books, or any other educational expenses.
Table of Contents
Aboitiz College Scholarship 2023 Overview
"Poverty is not an excuse for not getting a good education and realizing one's dreams," according to the Aboitiz Foundation. Our educational initiatives work to close the employment-education gap, giving people the tools they need to improve their lives and those of their families. Our social impact is quantified in terms of both numbers and the quality of lives improved. In addition to their corporate social obligations (CSR), which help the most deserving students pay for their education, they also do this.
The best part is that the Aboitiz Foundation has declared that the Aboitiz College Scholarship Program (ACSP) application period for the academic year 2023-2024 is now open. About a thousand students have benefited from the scholarship since it was founded in 2000.
What are the Benefits of Aboitiz Scholarship
Aboitiz Scholarship provides a wide range of benefits, which includes the following:
Full payment of Tuition fees
Monthly Allowances
Incentives for Latin honors
Academic Excellence Incentive
Internship Possibilities
Board Review Subsidy
Annual Educational Events
Employment opportunities at the Aboitiz Group
READ: Security Bank Scholarship 2023/2024 is open | Apply NOW
What are Aboitiz Scholarship Qualifications
In order to be eligible for the Aboitiz Scholarship Program 2023–2024, a candidate must fulfill the following requirements:
He / She must be a first-year student enrolled full-time in a college or university that is qualified.
He / She must must pursue a degree that the Aboitiz Foundation advises.
He / She must obtain a GWA of at least 88 percent while maintaining a perfect attendance record.
He / She must not have any incomplete or failing grades.
He / She must not have any history of any sort of punishment.
He / She Must have submitted all necessary paperwork on time and completed the online application form.
READ: CHED Scholarship 2023 is open | Apply NOW
What Courses are identified
Following courses are identified for Aboitiz College Scholarship:
Engineering
IT and Technology
Research
Marketing and Sales
Business
Data Science
Agriculture
Nutrition
Environment
What are the Documents required
Necessary Documents required to apply for Aboitiz College Scholarship are
A certified true copy of the applicant's most recent grade available upon the opening of the application process
Certifications supporting extra curricular activities.
READ: DSWD Cash Assistance 2023 is open | How to Apply
Partner Schools of Aboitiz Foundation
Following is the list of partner schools of Aboitiz College Scholarship 2023:
Ateneo De Manila University
De La Salle University
Mapua University
University of the Philippines – Diliman
University of the Philippines – Los Banos
University of Sto. Tomas
How to Apply for Aboitiz Scholarship
You may apply online for Aboitiz Scholarship. Make sure to complete and submit the Application at the Online Portal in order for your application to count.
Video Guide – How to Apply for Aboitiz College Scholarship 2023
Deadline to apply for Aboitiz Scholarship
The opening date of application is May 2, 2023.
The Deadline to apply for Aboitiz College Scholarship is June 30, 2023.
---
Get Latest Updates on Facebook
Join OWWA Scholarship Facebook Group for Philippine Scholarships, Cash Assistance programs, Civil Service Exams and Government Job updates.
---
[Source: Aboitiz Foundation]