LIST : 100+ OWWA Scholarship Courses
Here is a list of OWWA Scholarship courses. OWWA Scholarship can be applied by Dependents of active OWWA members enrolled or planning to enroll in any 4-year or 5-year baccalaureate course at any college or university.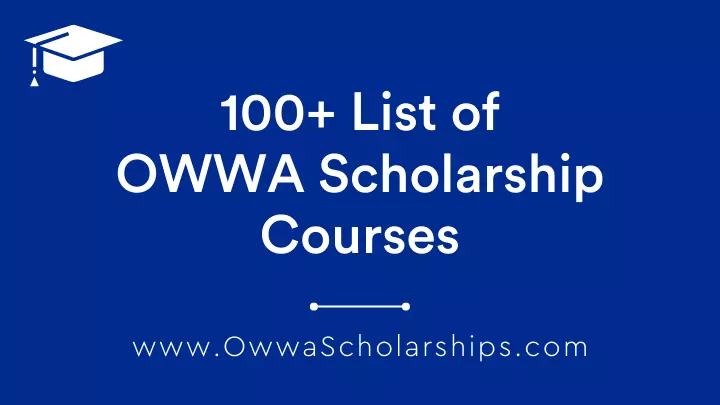 The goal of undergraduate degree programs ( Baccalaureate courses ) is to award you a degree when you have satisfactorily completed a set number of courses or disciplines. Depending on the subject, they usually take four to five years to finish.
After the completion of the study , you will receive a Bachelor's Degree, which you can use to apply for jobs and positions that need more advanced skill sets, particularly when it comes to doing administrative or management-related tasks, or to get accepted into a post-graduate degree program.
Following is a list of OWWA Scholarship courses in Philippines
List of OWWA Scholarship Courses
Architecture
Engineering
BS in Civil Engineering
BS in Marine Engineering
BS in Electronics & Communications Engineering
BS in Electrical Engineering
BS in Mechanical Engineering
BS in Computer Engineering
BS in Industrial Engineering
BS in Chemical Engineering
BS in Agricultural Engineering
BS in Aeronautical Engineering
BS in Geodetic Engineering
BS in Mining Engineering
BS in Software Engineering
Administration
BS in Office Administration
BS in Customs Administration
BS in Public Administration
BA in Public Administration
BS in Legal Management
Agriculture
BS in Agriculture
BS in Agricultural Engineering
Bachelor of Agricultural Technology
BS in Forestry
BS in Fisheries and Aquatic Resources
Aircraft & Aviation
BS in Aircraft Maintenance Technology
BS in Aeronautical Engineering
BS in Arts and Design
BS in Management Accounting
Bachelor of Fine Arts
BA in Multimedia Arts
BS in Interior Design
Business
BS in Business Administration
BS in Accountancy
BA in Marketing Management
BA in Financial Management
BA in Human Resource Development Management
BA in Management
BS in Accounting Technology
BS in Entrepreneurship
BA in Management Accounting
BA in Operations Management
BS in Entrepreneurial Management
BA in Economics
BA in Business Economics
BA in Entrepreneurship
BS in Economics
BA in Banking and Finance
Communication & Information Science
BA in Communication
BA in Mass Communication
BA in Multimedia Arts
BA in Journalism
BS in Developmental Communication
Bachelor of Library and Information Science
Humanities
BA in Philosophy
BA in History
BA in Literature
IT, Computer Science & Programming
BS in Information Technology
BS in Computer Science
BS in Computer Engineering
BS in Information Systems
BS in Information and Communications Technology
BS in Software Engineering
Language
BA in English
BA in Filipino
Maritime
BS in Marine Transportation
BS in Marine Engineering
Medical & Healthcare
BS in Nursing
BS in Medical Technology
BS in Pharmacy
BS in Physical Therapy
BS in Nutrition and Dietetics
BS in Respiratory Therapy
BS in Occupational Therapy
BS in Midwifery
Music
Bachelor of Music in Music Education
Professional & Technical Courses
BS in Industrial Technology
Bachelor of Technical Teacher Education
BS in Aircraft Maintenance Technology
BS in Food Technology
BS in Computer Technology
Religion & Theology
Science
BS in Biology
BS in Mathematics
BS in Chemistry
BS in Environmental Science
BS in Geology
BS in Applied Mathematics
BS in Applied Physics
BS in Physics
BS in Marine Biology
BS in Statistics
BS in Zoology
Social Science
BS in Criminology
BS in Psychology
BA in Political Science
BS in Social Work
BA in Psychology
BA in Sociology
BS in Community Development
BA in Social Science
Teaching
Bachelor of Elementary Education
Bachelor of Secondary Education
Bachelor of Technical Teacher Education
BS in Industrial Education
Tourism, Hospitality & Culinary
BS in Hotel and Restaurant Management
BS in Tourism Management
BS in Hospitality Management
BS in Tourism
BS in International Hospitality Management
BS in Travel Management
To Apply for OWWA Scholarship, Click here
Latest Philippines Scholarships