Remitly Scholarship 2023 for Filipino College Students – Apply Now
Remitly Scholarship is open to all Filipino college students for the Scholarship period March 2023 – June 2023. All interested college students can apply for the scholarship. You can use this scholarship amount to pay for your tuition fees and to support your education.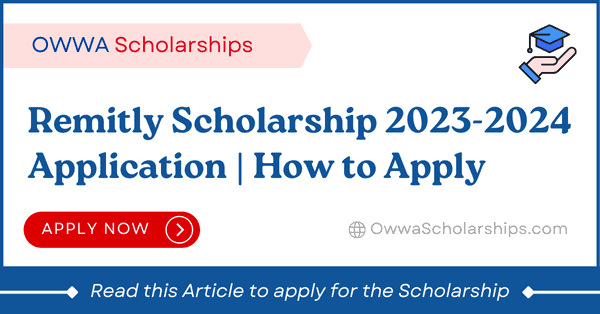 Table of Contents
What is Remitly Scholarship
Remitly is an online money transfer service company which enables thousands of people to conveniently send money from the United States to the Philippines every month through its website. Since educational support is among one of the most important reasons for the people to transfer money, the company has announced Remitly Scholarship to serve the Filipino community.
Requirements for Remitly Scholarship
Following are the requirements to apply for Remitly Scholarship:
Must be a Resident of Philippines
Must enroll at a participating institution of higher education
Eligibility for Scholarship
Along with the above requirements, the applicant must meet the following eligibility criteria for the Scholarship:
The applicant must be a Full-time student enrolled at a participating institution.
The Current Participating institutions are:

Mapua Institute of Technology and
University of the Philippines (College of Education College of Engineering, and College of Arts and Letters)

Must have a General Weighted Average (GPA) of at least "B" (or equivalent) in the previous school year
No individual grades below "C+" (or equivalent)
Submission of completed scholarship application
Agreement to the scholarship Terms and Conditions
Agreement to receive scholarship payment directly
The applicant must Intent to complete higher education program on time.
Scholarship Benefits
Remitly Scholarship 2023 provides a direct monthly financial assistance of USD$100 (around Php 5400+) per month over the course of 4 months to qualified students.
Deadline
The Dealine to apply for Remitly Scholarship is January 31, 2023.
How to apply for Remitly Scholarship
You can apply for Remitly Scholarship 2023 from the Application link given below:
https://www.surveymonkey.com/r/RemitlyScholarsJan2023
You shall find the application form by tapping on "next" at the bottom part of the article. Make sure to fill the scholarship application with all the completeness and accuracy.
Note: Winners will be chosen based on their ability to meet program eligibility requirements as well as the content of their application statement. No purchase or service to Remitly is required.
---
Get Latest Updates on Facebook
Join Owwa Scholarship Facebook Group for Philippine Scholarships, Cash Assistance programs, Civil Service Exams and Government Job updates.
---
[Source: University of Philippines]