MDFI Scholarship 2023 by Mercury Drug Foundation | Apply NOW
MDFI Pharmacy Scholarship 2023 is open to all eligible Filipinos. Recently, Mercury Drug Foundation, Inc. has announced the launch its Pharmacy Scholarship 2023-2024 program.
The goal of Mercury Drug Foundation, Inc. (MDFI) Scholarship is to provides full scholarships to deserving and financially challenged pharmacy students and selected courses to assist them in obtaining tertiary education and contributing to the country's pharmacist shortage.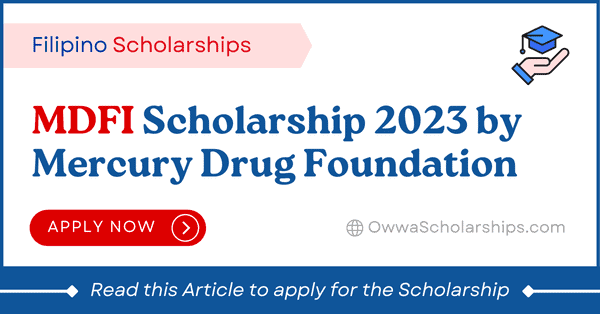 Table of Contents
What is Mercury Drug Foundation Scholarship
Mercury Drug Foundation, Inc. (MDFI) is a private, non-stock, non-profit organization that was founded in 1983 and registered with the Securities and Exchange Commission as Mercury Group Foundation, Inc. In 1990, the company name was changed to Mercury Drug Foundation, Inc.
The MDFI aims to build the country's exceptional group of professionals by providing scholarship grants to financially challenged and deserving students. This includes academic recognition to students excelling in science and mathematics, and financial assistance to other endeavors that will inspire, nurture, and promote excellence in education and foster national development.
READ: DOH Medical Scholarship 2023 | Apply NOW
Benefits of Mercury Drug Foundation Scholarship
The MDFI Scholars shall receive the following benefits:
Tuition fees,
Miscellaneous fees,
Monthly stipends to assist with living expenses
Transportation costs, and
Job offers from Mercury Drug Corporation upon graduation
READ: CHED Medical Scholarship 2023 Announcement
Eligibility for MDFI Scholarship
Following is the eligibility criteria for Mercury Drug Foundation Scholarship 2023:
The applicant must be a Student who is financially-challenged.
Must have a General Weighted Average of 2.5 and above (80% and above);
Must be single and
Should have a good moral character;
He / She should not have any other scholarship or educational plan;
Must not a dependent of an employee of Mercury Drug Corporation, Mercury Group of Companies or its subsidiaries.
Pharmacy students must be on their last two years of study and be not more than 23 years of age.
Note: Please note that Dependents of soldiers who are in active service, killed in action, incapacitated, or died in the line of duty are also beneficiaries of this program.
READ: Vivant Foundation STEM Scholarship 2023 | Apply NOW
How to Apply for MDFI Scholarship 2023
All interested and eligible students can apply for Mercury Drug Foundation, Inc. Scholarship by getting in touch with the respective Pharmacy School Dean or Head of the Department.
Application Deadline
The deadline date to apply for MDFI Pharmacy Scholarship is May 15, 2023
Important Notes
For more details regarding the accredited schools and other requirements on the MDFI scholarship program, applicants may contact the Mercury Drug Foundation, Inc.
---
Get Latest Updates on Facebook
Join OWWA Scholarship Facebook Group for Philippine Scholarships, Cash Assistance programs, Civil Service Exams and Government Job updates.
---
[Source: Mercury Drug Foundation]