DSWD Educational Cash Assistance program 2023
DSWD has launched its Cash Assistance program to provide cash aids to all those who are in need of assistance. This program will help eligible individuals and families who need financial assistance.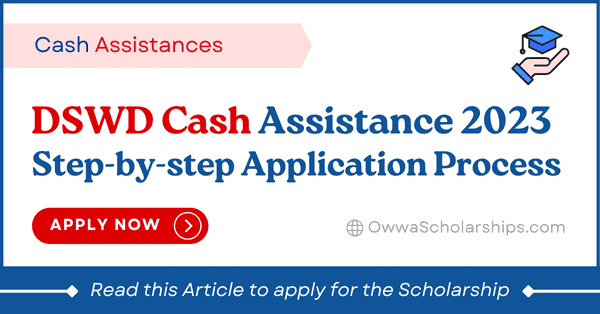 Table of Contents
DSWD Assistance programs
The Department of Social Welfare and Development (DSWD) provides various cash assistance programs under Assistance to Individuals in Crisis Situations (AICS) program.
DSWD has launched various programs like:
Pantawid Pamilyang Pilipino Program (4Ps),
Social Pension for Indigent Senior Citizens,
Assistance to Individuals in Crisis Situations (AICS),
Financial Assistance for Solo Parents,
Financial Assistance for Persons with Disabilities (PWDs).
In this article, we will know details about the DSWD Assistance to Individuals in Crisis Situations (AICS) program.
DSWD AICS Programs
Following are the financial assistance programs covered under AICS:
Educational Assistance
Transportation Assistance
Funeral Assistance
Medical Assistance
Let us know about Educational Assistance programs in detail.
READ: Hawak Kamay Scholarship 2023 is open | Apply NOW
DSWD Educational Assistance
The Department of Social Welfare and Development (DSWD) is the administrative body of the Philippines government in charge of assisting Filipino individuals who seek to pursue elementary, secondary, senior secondary, or higher education. The agency has several programs available, including the Educational Assistance Program (EAP).
Under the Educational Cash Assistance program, all eligible individuals will receive a cash grant to cover their educational expenditures. All the individuals who are from a low-income families, those who live their parents and guardians and are unable to fund their education will get assistance from this program.
DSWD Cash Assistance
The AICS Educational Assistance Program provides students with financial aid including from PHP 1000 to PHP 4,000, depending on their current level of education. Please see the details below for the cash amounts that each student can receive:
Php 1,000 for Elementary Students
Php 2,000 for High School Students
Php 3,000 for Senior High School Students
Php 4,000 for Vocational / College Students
READ: CHED Scholarship 2023-2024 | Apply NOW
Documentary Requirements
The list of documents required to apply for DSWD Cash Assistance 2023 are as follows:
Certificate of Enrollment or Registration
School ID of the Student
Statement of Account or
Any document issued by the school as evidence of the student being registered or enrolled.
Application Process for Cash Assistance
The DSWD Cash Assistance application is processed in 3 steps which are as follows:
Step 1: Follow updates from your local DSWD Branch Office. Please keep in mind that different DSWD offices may use different methods to provide cash assistance, so please check to see if your local office provides this service.
Step 2: Give the required documents to the officer in charge.
Step 3: Collect the cash assistance.
READ: Study Abroad Scholarships for Filipinos | Apply NOW
Cash Assistance Updates
On April 17, 2023 – DSWD shared a post regarding the "DSWD Central Office to process Step 1 of AICS in Batasan main office starting April 24"
Under this post, DSWD stated that "Starting April 24, the Step 1 processing of the Assistance to Individuals in Crisis Situations (AICS) program of the DSWD Central Office will now be back to the main office in Batasan Hills, Quezon City."
The Step 1 of this process includes the initial screening of documentary requirements and provision of schedule to the clients for further assessment.
Important points:
Currently, the said primary process is being done at the QC-X Building of the Quezon Memorial Circle.
Receiving of clients at the DSWD Central Office beginning April 24 will be from 6:00 am until 3:00pm, Mondays to Fridays.
The DSWD Central Office is advising its AICS Program clients to ensure that documents are complete and up-to-date.
READ: CHED Medical Scholarship 2023-2024 | Apply NOW
It can be recalled that on March 13, 2023, the DSWD Central Office temporarily established a temporary site at the Quezon Memorial Circle while renovations are being done at the processing area.
The renovations will provide a more conducive and safe environment for clients requesting for medical, hospitalization, burial, and transportation assistance among others.
AICS serves as a social safety net or a stop-gap mechanism to support the recovery of individuals and families from unexpected crises such as illness or death of a family member, natural and man-made disasters, and other crisis situations.
Beneficiaries of this program can avail of multiple assistance depending on their needs and assessment of the social worker.
---
Get Latest Updates on Facebook
Join Owwa Scholarship Facebook Group for Philippine Scholarships, Cash Assistance programs, Civil Service Exams and Government Job updates.
---
[Source: DSWD]