CHED Priority Courses : List of 75+ Courses
We have curated an Ultimate list of all CHED Priority Courses for all Filipino students aspiring to apply for CHED Scholarship 2023
Commission on Higher Education (CHED), the Philippines Commission has announced the application deadlines for high school graduate students for the upcoming academic year. You can apply for CHED scholarships if you meet the requirements in CHED priority courses, with all of the prerequisites.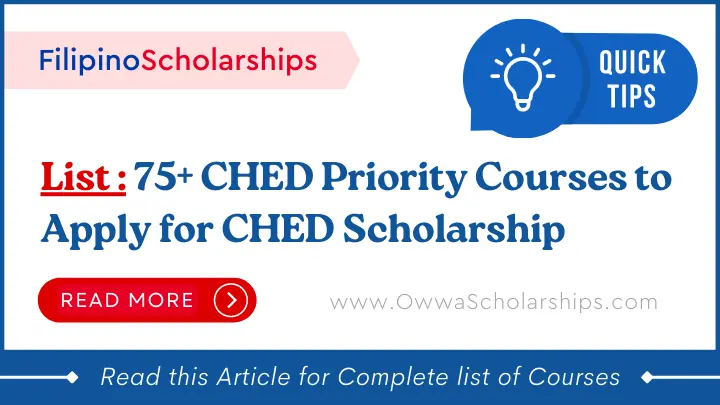 The CHED Regional Office will rank the applicants and notify the students who have been nominated and qualified for the Scholarship Program.
Students and candidates may enroll in the CHED scholarship programs and receive the full range of advantages offered by the CHED Scholarship, including full reimbursement of all students' tuition costs. Book fees for students and a lot more allowances.
List of CHED Priority Courses
Here is the list of CHED Priority Courses
A. National Priority Programs
1. Science and Mathematics

Applied Physics/Physics
Applied Mathematics/Mathematics
Applied Statistics/Statistics
Biochemistry
Biology
Botany
Chemistry
Environmental Science
Geology
Human Biology
Marine Biology
Marine Science
Meteorology
Molecular Biology and Biotechnology
2. Information Technology Education

Computer Science
Cyber Security
Entertainment and Multimedia Computing/Game Development and Animation
Information System
Information Technology
Library and Information Science
3. Engineering and Technology

Agriculture and Biosystems Engineering
Ceramic Engineering
Chemical Engineering
Civil Engineering
Computer Engineering
Electrical Engineering
Electronics Engineering/Electronics and Communications Engineering
Food Engineering
Geodetic Engineering
Industrial Engineering
Manufacturing/Production Engineering
Materials Engineering
Mechanical Engineering
Mechatronics Engineering
Metallurgical Engineering
Mining Engineering
Petroleum Engineering
Robotics Engineering
Sanitary Engineering
Structural Engineering
Aircraft Maintenance Technology
Aviation Related Programs
Engineering Technology
Industrial Technology
Mechatronics Engineering Technology
4. Architecture

Architecture
Fine Arts
Interior Design
Landscape Architecture
Environmental Planning
5. Business and Management

Accountancy
Business Analytics (straight or major)
Hospitality Management/Hotel and Restaurant Management
Tourism Management/Tourism
6. Health Profession Education

Doctor of Dental Medicine
Doctor of Optometry
Medical Technology/Medical Laboratory Science
Midwifery
Nursing
Nutrition and Dietetics
Occupational Therapy
Pharmacy
Physical Therapy
Radiologic Technology
Respiratory Therapy
Speech Language Pathology
7. Maritime Education

Marine Engineering
Marine Transportation
8. Social Sciences

Community Development
Human Services (Guidance and Counselling)
Indigenous Peoples Studies/Education
Peace Studies/Education
Psychology
Social Work
9. Teacher Education

Secondary Education major in Science and Mathematics
Culture and Arts
Early Childhood Education
Special Needs Education
Sports and Exercise Science
10. Multi and Interdisciplinary Cluster

Agribusiness
Agro-Forestry
Data Science and Analytics
Disaster Risk Management/Climate Change
Renewable/Sustainable Energy
B. Regional Priority Programs
1. Communication

Bachelor of Arts in Communication
For more information, visit CHED site
List of CHED Recognized HEIs
Here is a list of CHED Recognized HEIs. Please check if your institute is recognized by CHED for Scholarship
ABE International College of Business and Accountancy
AIE College, Inc.
AMA Computer College – La Union
AMA Computer College – Pangasinan
AMA Computer College-Laoag City
Asbury College, Inc.
Asiacareer College Foundation, Inc
Baccarra Medical Center School of Midwifery
CICOSAT Colleges
Colegio de Dagupan
Colegio de San Juan de Letran – Manaoag (formerly Our Lady of Manaoag College)
Colegio San Jose De Alaminos
Dagupan Colleges Foundation
Data Center College of the Philippines of Laoag City, Inc.
Data Center College of the Philippines-Vigan City
Divine Word College of Laoag
Divine Word College of Urdaneta
Divine Word College of Vigan
Don Mariano Marcos Memorial State University – Mid La Union
Don Mariano Marcos Memorial State University – North La Union – Main Campus
Don Mariano Marcos Memorial State University – Open University
Don Mariano Marcos Memorial State University – South La Union
Want to see Complete list of CHED Recognized HEIs, Click Here
How to Apply for CHED Scholarship 2023
For more details on Scholarship Benefits, Eligibility, Documentary requirements and How to Apply, visit CHED Scholarship 2023 – Ultimate Guide
Ultimate Guide for CHED Scholarship
CHED Scholarship 2023 video guide
---
Get Latest Updates on Facebook
Join OWWA Scholarship Facebook Group for Philippine Scholarships, Cash Assistance programs, Civil Service Exams and Government Job updates.
---
[Source: CHED]