CHED Scholarship 2023-2024 | Latest Guidelines
Here are the latest guidelines of CHED Scholarship 2022/2023. Learn How to Apply for CHED Scholarship in 2022-2023
To help students who are enrolled in accredited public or private higher education institutions financially, StuFAPs was created (HEIs). This makes it possible for everyone, especially deserving and poor pupils, to have access to an education. According to CMO No. 1 s. 2104, qualified beneficiaries must enroll in or be enrolled in any CHED priority courses. They will also get financial aid ranging from Php 15,000 to Php 30,000 per semester, depending on the program for which they are eligible.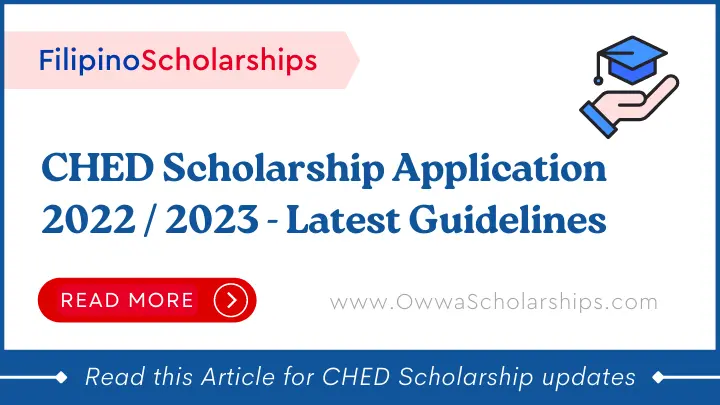 How to Apply for CHED StuFAPs?
Applications for the CHED Scholarship Program (CSP) for incoming first-year college students for Academic Year (AY) 2022-2023 have been "temporarily" suspended, according to a statement from the Commission on Higher Education (CHED).
The suspension is a "offshoot of financial shortfall" in the Commission's Fiscal Year (SY) 2022 budget for Student Financial Assistance Programs, according to a social media statement from CHED (StuFAPs).
What are the Qualifications to Apply for CHED Scholarship 2022
Applicants must meet all the qualifications below to qualify for the CHED scholarship program.
Applicant must be a Filipino citizen;
Applicant must be a senior high school graduate and/or candidate for graduation;
The family gross income of the applicant must not exceed four hundred thousand pesos (Php 400,000.00);
He or She must avail of only one CHED scholarship or financial assistance program; and
He or She must not be a graduate of any degree program.
General Weighted Average:

For the Full State Scholarship Program (FSSP) and Full Private Education Student Financial Assistance (FPESFA), GWA must be 96% or above.
For half-SSP or half-PESFA, GWA must be at least 93% but not more than 95%.
Please Note : In highly exceptional cases where income exceeds PhP400,000.00, an applicant must present a written certification or medical findings of illness of a family member, or school certifications of two or more dependents enrolled in college.
What are the Benefits of a CHED Scholarship
The financial assistance to CHED Scholars shall cover tuition and other school fees (TOSF) plus stipend which shall be released directly to the scholars or through HEIs per semester of a given academic year until the completion of the degree program. The breakdown of the financial assistance, depending on the type of scholarships awarded, are as follows:
Documents Required to Apply for CHED Scholarships 2022
Here are the documents required to apply for CHED Scholarships 2022 program. You need to submit when applying for the CHED's student financial assistance program. Prepare scanned copies of the required documents in PDF format. Your region might require you to upload the documents or submit your documents through email or through personal appearance.
Senior High School Graduate

High school report card for incoming freshmen students eligible for college.

Candidate for Graduation in Senior High School

Duly certified true copy of Photocopy of grades in Grade 11 and 1st semester of Grade 12

A certified true copy of the birth certificate;
Proof of Income (any of the following)

For children of OFWs and seafarers, a photocopy of any of the following:

The latest copy of the contract;
Proof of income

For children of non-OFWs, a photocopy of any of the following:

Photocopy of the latest Income Tax Return of parents or guardian;
Certificate of Tax Exemption from the Bureau of Internal Revenue
Case study from the Department of Social Welfare and Development (DSWD)
Affidavit of No Income
Certificate of Indigency from Barangay
List of CHED Priority Courses
Here is the list of CHED Scholarship Program Priority Courses.
SCIENCE AND MATHEMATICS
Applied Physics/Physics
Applied Mathematics/Mathematics
Applied Statistics/Statistics
Biochemistry
Biology
Botany
Chemistry
Environmental Science
Geology
Human Biology
Marine Biology
Marine Science
Meteorology
Molecular Biology and Biotechnology
INFORMATION TECHNOLOGY EDUCATION
Computer Science
Cyber Security
Entertainment and Multimedia Computing/Game Development and Animation
Information System
Information Technology
Library and Information Science
3. ENGINEERING AND TECHNOLOGY
Agricultural and Biosystems Engineering
Architecture
Ceramic Engineering
Chemical Engineering
Civil Engineering
Computer Engineering
Electrical Engineering
Electronics Engineering/Electronics and Communications Engineering
Food Engineering
Geodetic Engineering
Industrial Engineering
Manufacturing/ Production Engineering
Materials Engineering
Mechanical Engineering
Mechatronics Engineering
Metallurgical Engineering
Mining Engineering
Petroleum Engineering
Robotics Engineering
Sanitary Engineering
Structural Engineering
Aircraft Maintenance Technology
Aviation Related Programs
Engineering Technology
Industrial Technology
Mechatronics Engineering Technology
To see full List of CHED Priority Courses in different academic fields, Click below
Responsibilities of a CHED Scholars
As a CHED scholar, you must enroll in recognized priority programs of Private Higher Education Institutions (PHEIs) or State Universities and Colleges (SUCs) / Local Universities or Colleges (LUCs) with Certificate of Program Compliance. You must be a regular student and maintain a GWA of at least 85% or equivalent if you are a full scholar or 80% or its equivalent if a half scholar.
Failure to maintain the GWA is a ground for termination of the scholarship grant. However, you can file an appeal to the CHEDRO for consideration, within 15 days from notice of the GWA. If you intend to transfer to another HEI or shift to other recognized or authorized priority programs, you must secure written approval of the concerned CHEDRO before doing so.
Is CHED Scholarship suspended for 2022 – 2023
The Commission on Higher Education (CHED) has declared that applications for the CHED Scholarship Program (CSP) for upcoming first-year college students for Academic Year (AY) 2022-2023 have been "temporarily" suspended.
Conclusion:
Before Applying for any scholarship, please read the guidelines and rules of related scholarship on their website. A link to the source of the information of this Article is given below.
Source : CHED