Ayala Foundation Scholarship 2023 is Open | Apply Now
Ayala Foundation Scholarship 2023-2024 is open to Apply for all eligible Filipinos. The Ayala Foundation is the social responsibility arm of Ayala Group of companies. The Ayala Foundation is dedicated to community development, working directly with local groups to identify essential needs and offer appropriate solutions with concrete results.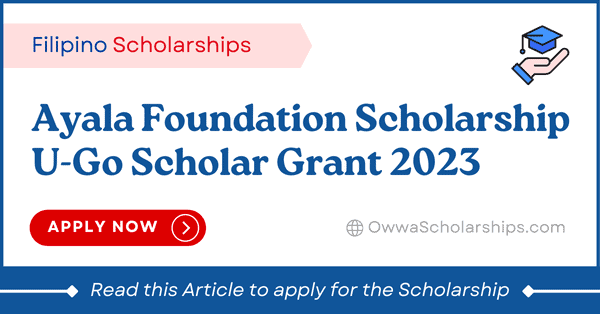 Table of Contents
About Ayala Foundation
Ayala Foundation has implemented programs in nearly every region of the country over the years, cultivating partnerships with a diverse network of government, nongovernmental, corporate, and community-based organizations, as well as private individuals.
The Foundation now envisions communities where residents are productive, creative, self-sufficient, and proud to be Filipino. It operates in three thematic program areas — Education, Sustainable Livelihood, and Love of Country — as a believer in creating shared value and inclusive business.
Ayala Foundation Scholarship
Ayala Foundation Scholarship is a partnership between the start-up U-Go and Ayala Foundation. This partnership is named U-Go Scholar Grant.
The goal of U-Go Scholar Grant is to help young women from economically-disadvantaged backgrounds to pursue higher education. The program will provide grants to 120 women in its initial batch. It hopes to expand to at least 1,000 recipients in the medium term.
READ: CHED Scholarship 2023 is Open | Apply NOW
Qualifications for Ayala Foundation Scholarship
Following are the qualifications required to apply for Ayala Foundation Scholarship 2023:
The Applicant must be a Filipino citizen,
Must be Female,
Should be an Incoming first-year, second-year, or third-year college students for SY 23-24. Incoming fourth-year students for SY 23-24 may apply only if they are taking a five-year course. Students who are expecting to graduate SY 23-24 cannot apply.
Must be enrolling in a public or state university/college for SY 23-24.
Should have a desire to excel and a minimum GPA of 85% (or equivalent),
She must be an active member of her community,
Aspires to bring positive change to society,
Must be a model of integrity in the community,
Without any disciplinary or administrative cases,
With proof of financial need.
READ: DOST SEI Scholarship 2023 | Apply NOW
Documentary Requirements
Following are the documents requirements to apply for Ayala Foundation Scholarship:
List of required documents:

Current Official Certificate of Registration/Enrollment signed by registrar​
Parent's ITR or Certificate of Indigency
Latest copy of grades​

If available

Recent copy of electric or water bill

If shortlisted for the grant
READ: MDFI Scholarship 2023-2024 is Open | Apply NOW
Scholarship Benefits
The U-Go Scholar Grant by Ayala Foundation helps ambitious and promising young women pursue higher education by providing financial assistance.
The grant will be given starting SY2023-24. It will renew annually as long as the scholar meets the conditions of the grant.
Application Deadline
The deadline for Ayala Foundation Scholarship application submission is on April 21, 2023 (Friday) at 12:00 noon, Philippine Standard Time.
How to Apply for the Scholarship
All interested and eligible applicants can apply for the Ayala Foundation Scholarship 2023 by visiting afi.ph/u-go-apply.
Please Note that Complete applications must be submitted by April 21, 2023 (Friday), 12 noon Philippine Standard Time.
Important Links
Following are some useful links related to the Scholarship for applicants:
---
Get Latest Updates on Facebook
Join OWWA Scholarship Facebook Group for Philippine Scholarships, Cash Assistance programs, Civil Service Exams and Government Job updates.
---
[Source: Ayala Foundation]