Phinma Scholarship 2023/2024 | Open to Apply
The Southwestern University PHINMA has announced its Working student Phinma Scholarship 2023-2024 program on May 5, 2023. Under this scholarship program, Southwestern University will provide scholarship grants and financial assistance to deserving students who are enrolled in undergraduate programs at Southwestern University campus in Cebu, Philippines.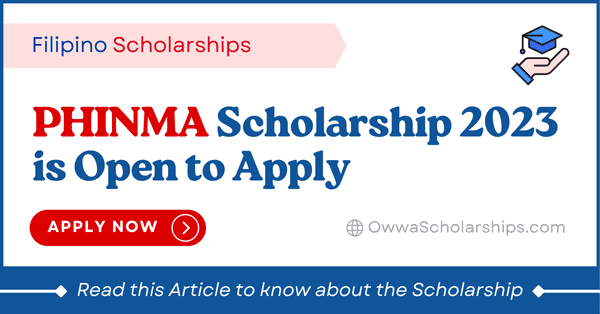 Table of Contents
Scholarship Overview
Phinma Foundation is a non-profit organization that aims to promote education and improve the quality of life in the Philippines. The Phinma scholarship program is funded by the PHINMA Foundation.
The Southwestern University Scholarship is designed to assist students in financing their education while also providing them with practical work experience that can help them in their future careers.
READ: CHED Scholarship 2023 is Open to Apply
Scholarship Benefits
PHINMA Scholars will receive a Full Scholarship Grant under the Working student Scholarship program.
Eligibility Criteria for Phinma Scholarship
To be eligible to apply for Scholarship, students must meet the following criteria:
Be an Incoming Freshmen; or
Be a Continuing student (2nd year or 3rd year)
READ: Aboitiz College Scholarship 2023 is Open to Apply
Documentary Requirements
The list of documents required to apply for this Scholarship are as follows:
A Resume;
A copy of Income Tax Return (ITR) or BIR Tax Exemption Certificate;
An Original Certificate of Good Moral conduct;
A Clear copy of PSA Birth Certificate;
Picture 2×2 (2 pieces);
Application letter addressed to Mr. Jevie Nino V. Gedoria, Internal Scholarship Coordinator.
Grades Certificate:

For Freshmen students (GRADES)

Grade 11 Report card with overall GWA (No grades lower than 80% in all subjects).
Grade 12 Report card with 1st Semester GWA.

For Continuing students (GRADES)

Certificate of Grades – Last semester attended (No grades lower then 3.0 in all subjects).
READ: DSWD Cash Assistance 2023 is Open to Apply
Programs Covered under Phinma Scholarship
Following is the list of programs covered under this scholarship:
Accountancy;
BS Communication.
Business administration;
Information Technology;
Phinma Scholarship Timeline
The opening date to apply for the Scholarship is on May 8, 2023.
The deadline date to apply for PHINMA Scholarship is June 2, 2023.
How to Apply for the Scholarship
Interested applicants can apply for the Scholarship by Submitting all the required documents enclosed in a White long Folder at:
STUDENT LIFE OFFICE, SOUTHWESTERN UNIVERSITY PHINMA URGELLO ST., CEBU CITY WEEKDAYS (8AM TO 5PM)
---
Get Latest Updates on Facebook
Join OWWA Scholarship Facebook Group for Philippine Scholarships, Cash Assistance programs, Civil Service Exams and Government Job updates.
---