PCAFPD Scholarship 2024-2025 | Apply Now
PCAFPD Scholarship for the school year 2024-2025 is open to apply for all eligible college students. The Peace Corps Alumni Foundation for Philippine Development has started PCAFPD Scholarship program to provide educational assistance to deserving Filipino students.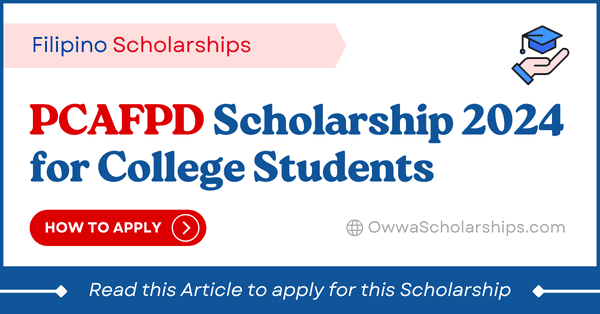 Table of Contents
PCAFPD Scholarship 2024
The PCAFPD scholarship program is designed to provide opportunities for Filipinos to further their education and contribute to the development of the Philippines. This scholarship program is primarily funded and supported by former Peace Corps Volunteers and Filipinos who support the program as a way to further Philippine development.
Following is the basis for PCAFPD Scholarship 2024:
academic excellence
financial need
commitment to serving your community or country
Benefits of PCAFPD – Peace Corps Alumni Foundation Scholarship
Following is the list of benefits, a Peace Corps Alumni Foundation scholar will receive:
Full Tuition & Other School Fees
Allowance for Books & Educational Supplies
Living Allowance per Semester
Reimbursement for other education-related activities (for prior approval)
A laptop computer provided by the Foundation
READ: Ongoing College Scholarships 2023
Who can apply for the Scholarship
The Peace Corps Alumni Foundation is looking for applicants who have the potential to be leaders in their communities and demonstrate a strong commitment to improving the quality of life for all Filipinos. Your application should demonstrate this capacity and commitment.
The PCAFPD Scholarship is open to all Filipino students who
has completed high school (or will graduate in the current school year),
are undergraduate college students and
graduate students.
Please note that preference will be given to applicants who propose to study at public universities and colleges or inexpensive private institutions.
Priority Courses for Scholarship
The PCAFPD scholarship is open for students who have the potential to be leaders in their communities and exhibit a strong dedication to enhancing the quality of living for all Filipinos.
This scholarship program is NOT available for students who wish to seek work overseas after graduation.
Students may apply to take up any course as part of the scholarship and are encouraged to demonstrate how their pursuit of that course demonstrates a commitment to improving the quality of life for Filipinos.
The exception are the following courses which we do not currently support: No medical related courses such as nursing, medical technology, graduate study in medicine, dentistry, veterinary medicine, and in addition, law. Theology is acceptable sofar as the applicant does not wish to join the clergy, become a priest, or become a nun.
READ: CHED CoScho Scholarship 2023 | How to Apply
Scholarship Application Timeline
Following is the application timeline for Peace Corps Alumni Foundation for Philippine Development – PCAFPD Scholarship:
June 1 – Application Process Begins
October 31 – Deadline due date for all application material (undergraduate and graduate)
November – Review of application by Philippine Board members and volunteers
December – Transmittal of all complete application forms to Washington, DC
January – Final review by Board of Directors in USA
March – Scholarship Awards posted on this website / Award notices sent to successful applicants
April 1 – Deadline for scholarship acceptance
April – May Orientation of new scholars
How to apply for PCAFPD scholarship
All interested and eligible college undergraduate and graduate students can apply for PCAFPD scholarship by visiting the Scholarship Application page from here: https://rpcvphilippines.org/applications/.
Visit the application link for more information on eligibility, documentary requirements and FAQ's.
---
Get Latest Updates on Facebook
Join OWWA Scholarship Facebook Group for Philippine Scholarships, Cash Assistance programs, Civil Service Exams and Government Job updates.
---