LandBank Scholarship 2023-2024 Eligibility and Eligible courses
The LandBank Scholarship has recently been announced by the Land Bank of the Philippines. In a Facebook post on March 19, 2023, Land Bank has shared updates related to the Scholarship.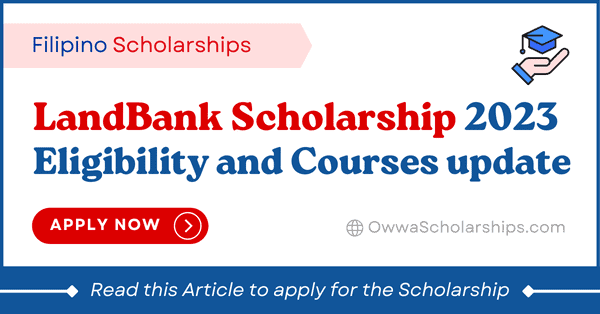 In the latest update, Land Bank said that it will soon start accepting applications for its new scholarship program and select scholars from the poorest 60 provinces in the country. This Scholarship program will be known as Iskolar ng LANDBANK.
Table of Contents
About Iskolar ng LANDBANK
The Iskolar ng LANDBANK Program is aimed at supporting worthy dependents of agrarian reform beneficiaries (ARBs), as well as small farmers and fishers across the country.
Under Iskolar ng LANDBANK Program, Land Bank will select Sixty (60) scholars each year and provide them with the Scholarship benefits to pursue their education.
The LANDBANK President and CEO Cecilia Cayosa Borromeo, said that "We want the Iskolar ng LANDBANK Program to create meaningful impact in the lives of deserving students who really need assistance the most. We are now reaching out to our partner cooperatives, associations, and organizations in the agri sector to nominate dependents from among their members".
LandBank Scholarship Benefits
Following are the benefits of Iskolar ng LANDBANK program 2023:
₱100,000 per year to cover allowance and expenses for books, clothing, and other course requirements
Special cash incentives for scholars who will graduate with honors.
Iskolar Ng Landbank graduates will also be offered on-the-job (OJT) training in LANDBANK Branches and Lending Centers, including the Bank's partner agencies and institutions.
READ: Best Ongoing Scholarships to Apply in April 2023
Eligibility Criteria
Following are the eligibility criteria to apply for Landbank Scholarship 2023:
Eligible applicants shall be the children or grandchildren of ARBs or small farmers and fishers who are graduating high school students.
Candidates must have a minimum average grade of 90% or belonging to the top 10% of their class. 
Applicants must also have a letter of endorsement from their senior high school principal;
Must not enjoy any other financial assistance, grant, or scholarship from other external sources;
He / She must pass the admission requirements of partner State Colleges and Universities (SUCs); and
The annual total family income of the candidate must not exceed Php300,000.00.
READ: UPCAT 2024 Online Application Step-by-step Guide
LandBank Scholarship Eligible Courses
Following is the list of eligible courses available for the Land Bank Scholarship:
Horticulture,
Animal science,
Food technology,
Data analytics,
Information technology,
Accounting,
Agribusiness management,
Agricultural,
IT,
Industrial or management,
Civil engineering and
Mechanical engineering
READ: CHED Scholarship 2023 Application | Apply NOW
Selection Process
Following the program's introduction in the month of February this year, the Bank received several inquiries from potential applicants, prompting the announcement of this revised selection process.
The Bank will choose the scholars for the Iskolar ng LANDBANK Program from among nominations approved by the Bank's partner groups made up of farmers and fishermen.
Application Timeline
The Land Bank of the Philippines has not yet specified the opening and closing dates of the Scholarship application. Join our Facebook Group for latest updates on the Scholarship.
How to Apply for Land Bank Scholarship
The application process is not yet specified by the Land Bank, we will update the application process here as soon as we get an update from the Land Bank.
---
Get Latest Updates on Facebook
Join Owwa Scholarship Facebook Group for Philippine Scholarships, Cash Assistance programs, Civil Service Exams and Government Job updates.
---
[Source: LandBank of the Philippines]