Civil Service Exam 2023 Application, Qualifications, How to Apply
The Civil Service Exam is a necessity for Filipinos who want to work for the government of the Philippines. The Civil Service Commission (CSC) has announced the Civil Service Exam – Pen and Paper Test (CSE-PPT) schedule for 2023.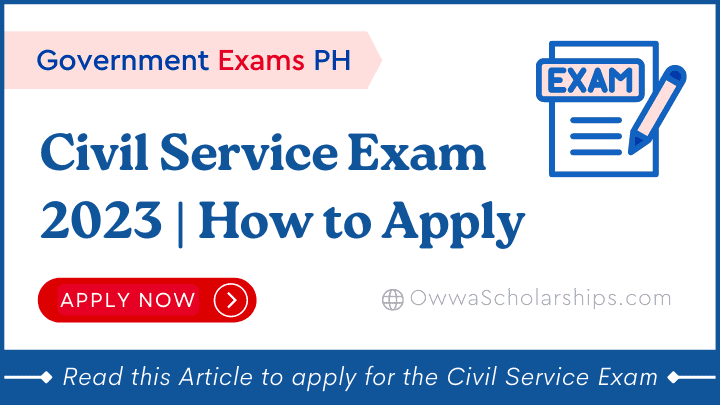 Examinees who were not refunded for the March 15, 2022, CSE-PPT will have a particular application period from December 14-21, 2022, to take the March 26, 2023, CSE.
Table of Contents
Qualifications to Apply for Civil Service Exam 2023
The Civil Service Examination is open to all Filipinos who want to to be eligible for jobs in local government.
He / She must be a Filipino citizen
He / She must have a good moral character
He / She must not have been convicted by final judgment of an offense or crime involving moral turpitude, dishonesty, examination irregularity, drinking, or drug addiction
He / She must not have been dishonorably discharged from military service or fired for cause from any civilian government employment
Civil Service Exam Requirements
Following are 5 requirements for CSE PPT Exam 2023:
Application Form
ID Pictures
Valid ID
NSO Birth Certificate
Examination Fees
Lets know about these in detail:
Application Form:
A properly completed application form (CS Form No. 100, Revised 2016).
The Signature and the Right Thumb mark as per CSC shall be left blank as this will be accomplished in the presence of CSC representative/ processor.
ID Pictures
Four (4) pieces of ID photos printed on high-quality photo paper
Passport size, colored with a white background
With a handwritten name tag showing the signature over the printed full name format.
Simply tell the photo studio that the shot is for a Civil Service application, and they will already know the standards.
Valid ID
With a clear picture
Date of Birth and Signature
Original and Photocopy of the following documents
Driver's license, PRC License ID, SSS ID, GSIS ID, Voter's ID, BIR ID, Philhealth ID, Postal ID, Current company ID, Current School ID, Police Clearance, Barangay ID.
NSO Birth Certificate
If the applicant's ID does not include his or her birth date, he or she must bring an authenticated birth certificate.
Examination Fees
An Examination fee of 500 Pesos is required for CSE 2023
CSC Civil Service Exam Application Period and Exam Schedule
Application Period: December 22, 2022 – January 25, 2023
CSE-PPT Exam: March 26, 2023
Application Period: May 15, 2023 – June 14, 2023
CSE-PPT Exam: August 19, 2023
Exam Coverage:
Here is the basic structure of various subjects for CSE 2023
Professional Level (Prof)
Numerical Ability (Basic Operations; Word Problems)
Verbal Ability (Grammar and Correct Usage; Vocabulary; Paragraph Organization; Reading Comprehension)
Analytical Ability (Word Association – identifying assumptions and conclusions; Logic; Data Interpretation)
SubProfessional Level (SubProf)
Clerical Ability (Filing; Spelling)
Numerical Ability (Basic Operations; Word Problems)
Verbal Ability (Grammar and Correct Usage; Vocabulary; Paragraph Organization; Reading Comprehension)
Civil Service Exam Results 2022-2023
The CSC) will release the official list of passers for all regions in the 2023 Civil Service Exam within 60 days of the exams (CSC-PPT).
Video Guide with Great Tips
Have any Questions?
Join our Facebook group for Philippine Scholarships, Cash Assistance programs, Civil Service Exams and Government Job updates.