Apply Now: OFW Dependents OWWA Scholarship 2022
The OFW Dependents OWWA Scholarship Program is open to Filipinos wo are OFW dependents (siblings or children) who plan to enroll in or are currently enrolled in any degree program at a state college or university of their choice and whose OFW relative earns not more than USD 600 salary per month.
The OFW Dependent Scholarship Program is one of the OWWA scholarship program available (ODSP). This scholarship program is open to dependents of active OWWA members who are enrolled or planning to enroll in any 4-year or 5-year baccalaureate course at any college or university. Any OFW dependent who is currently a OWWA member may can apply for this scholarship
What are OWWA Scholarship Courses ? – Click here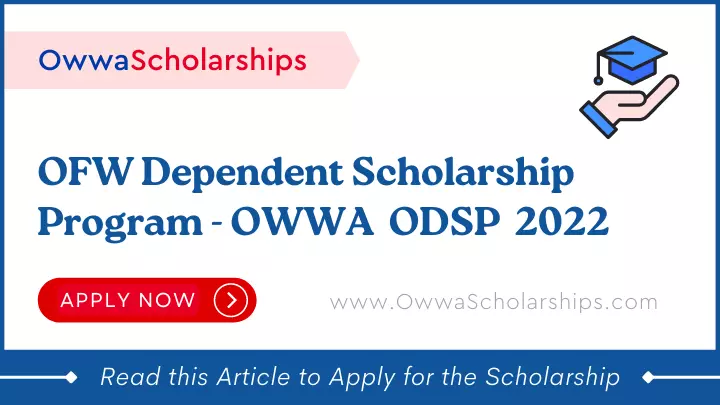 Benefits of OFW Dependents OWWA Scholarship Program
The OFW Dependents Scholarship Program (ODSP) grants PHP 20,000 in financial help to eligible dependents of current OWWA members each academic year. The scholarship can be used to cover any educational expenditures, including tuition, lodging, books, and other living costs. As a result, OWWA scholars greatly benefit from the Scholarship bonus of PHP 20,000 each year.
Also read : What is an OFW
What are the Qualifications for OFW Dependents OWWA Scholarship Program
The Requirements to Apply for OFW Dependents OWWA Scholarship Program are
The Salary of OFW relative OWWA members must be $600 or less per month.
For entering freshmen, the candidate must be either a sibling of an unmarried, under-21 OWWA member or a child of an active OWWA member.
The applicant must be a child of an active OWWA member who is single and under the age of 30 and who is currently or has previously been enrolled in college.
The applicant must have completed high school and be in good physical and mental health.
The applicant must have a good moral conduct.
The applicant must pass an admission exam conducted by the state institution or university where he or she intends to enroll in the OWWA Regional Welfare Offices.
The applicant must not be a recipient of other scholarships.
Also Read:
What are the Documentary Requirements for OFW Dependent's OWWA Scholarship Program
The Documentary Requirements you need to secure in order to apply for OFW Dependent's OWWA Scholarship Program (ODSP) are
2×2 Recent and Identical Photos (2 copies)
Health Certificate
Certificate of good moral character issued by the principal/guidance counselor
Certification that applicant belongs to the upper 20% of the High School Graduating Class and that he/she has a GWA average of above 80% in his Grade 12 report card.
Proof of relationship to an OWWA member. Any of the following documents :

Birth Certificate (issued by PSA) of applicant, if child of OFW (ORIGINAL)
Birth Certificate (issued by PSA) of both applicant & OFW, if OFW's brother/sister
Certificate of No Marriage (CENOMAR of OFW) from PSA (proof of unmarried)

For new first-year college students, fill out Form 137; for those already enrolled in college, fill out Transcript of Records or Certificate of Grades.
Proof of OWWA membership. Any of the following:

Official Receipt of OWWA Contribution.
OFW Verification Sheet issued by MPC.

Applicant's Certificate of not having taken post secondary or undergraduate/college units and not a Recipient of any scholarship grant/has not taken the EDSP Qualifying Examination.
Sworn Statement that he/she has no pending application for resident immigrant status in any country and does not have dual citizenship signed by parent or legal guardians.
Contract salary of OFW not to exceed 600USD (photocopy)
Accomplished ODSP Application Form (2 copies)
How to Apply for OFW Dependent's OWWA Scholarship Program 2022
Here's a step by step guide on how you can apply for the ODSP scholarship:
Download or secure the Application Form. You may get this form online or from your nearest OWWA Regional office. ODSP Application form link is given below
Complete the form to the best of your knowledge.
Complete all of the documentation specifications.
Submit all documents to the OWWA Regional Welfare Office or via online.
Wait for the call from OWWA if you are in the applicants slot.
For more information, visit OWWA website.
Note
The OWWA offers a variety of scholarship programs for OFWs' dependent children. So, it is very important that you are aware of these programs and that utilize them. After all, any form of assistance is for the sake of your children's education and future is truly beneficial.
If you require any additional information, please contact your nearest OWWA Regional Welfare office/branch.