Job alert: Japan is Hiring English Second Language Instructors
Japan is Hiring Filipinos for the Job of English Second Language Instructors. All eligible Filipinos can apply for the Interview. This Job has a high pay scale. For Salary, Qualifications, Employer details and Deadline, continue reading below.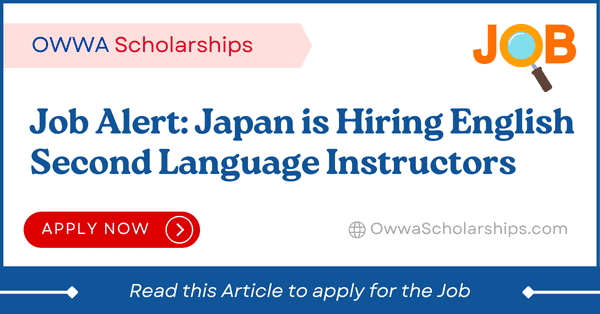 Table of Contents
Job Description for English Second Language Instructors
Teaching English Language for Children.
Assisting for Japanese Teacher's teaching.
Establishing curriculum and lesson plan for English language school.
Salary Per Month
Monthly Salary of English Second Language Instructors is JPY 210,000- 220,000; which converts to around ₱ 85,000- 90,000, Depending on exchange rates.
Qualifications to apply for the Job
Following are the qualifications required to apply:
The candidate must have a minimum 2 (two) years of working experience.
Candidates must have a Bachelor's / College Degree in Education/Teaching/Training or similar fields.
He or She must have a Master or Doctorate Degree in Elementary Education.
He or She must Preferably be Elementary Teacher with Major in Early Childhood Education.
About the Agency and Employer
Agency:
Agency: UNIPLAN OVERSEAS EMPLOYMENT INC.
POEA License No.: POEA-217-LB-120619-R
Address: Ground Floor & Second Floor, No.302 J.P. Rizal St., Quezon city, Metro Manila, Philippines
Employer:
Principal / Employer: Yoko Mukai
Principal / Employer Address: 2-12-46-8 Kuwabara, Matsuyama-shi, Ehime-ken, Japan
Placement Fee: Please be reminded that as per POEA regulations, the placement fee is up to a maximum of one (1) month's salary.
Deadline for Interview
The Interviews are open and going on from Feb 10, 2023.
Last date to apply for the interview is March 10, 2023
How to Apply:
All Interested and Eligible Filipinos can apply for this Job from here: www.WorkAbroad.ph. (click on the link to go to the Job listing page)
Important Notes: Our page will never collect any FEES in any FORMS. We are not a recruitment agency. We only share Scholarship Updates, Job alerts and related articles. Everyone is advised to be vigilant. The source of this Job opening is mentioned below, for more details, visit site in the Source section! Thank you!
---
Get Latest Updates on Facebook
Join Owwa Facebook Group for Philippine Scholarships, Cash Assistance programs, Civil Service Exams and Job updates.
---
[Source: WorkAbroad.ph]