HK Scholarship Slot Enrollment 2023 | Apply Now
The Hawak Kamay Scholarship Slot reservation timeline for HK qualifiers is out now. In a latest post on 3rd April, 2023; the PHINMA-Cagayan de Oro College has announced the deadline for Online enrollment.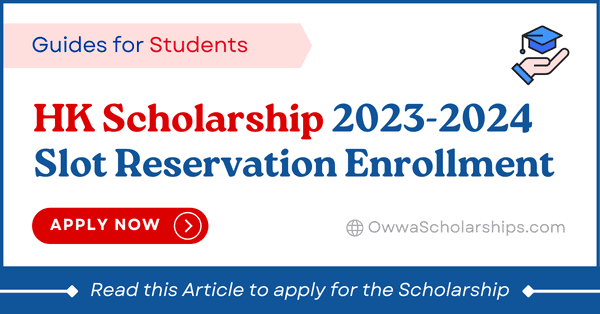 This announcement is for Incoming Freshmen Grantees S.Y 2023-2024 of HK Batch 4th and 5th Qualifiers.
What is Hawak Kamay Scholarship
The Hawak Kamay Scholarship is given to students who have passed the Hawak Kamay qualifying examination. This exam is held during the pre-enrollment season of the specific school year.
Table of Contents
Enrollment Announcement
Following are the main points covered under the Facebook announcement:
The Facebook post shared by PHINMA-Cagayan de Oro College on April 3rd, has mentioned the deadline for HK Slot Reservation.
The Slot reservation is open to HK Batch 4th and 5th Qualifiers.
Enrollment process.
NOTE: Limited Slots Available. We advise the Qualifiers to enroll and reserve their slots as soon as possible.
READ: CHED Scholarship 2023 is Open | Apply NOW
HK Enrollment Process
The Slot reservation enrollment is available in 2 ways
Onsite Enrollment, and
Online Enrollment.
Step-by-step Onsite Enrollment Process
Following is the step-by-step process for onsite enrollment:
1. Visit the Marketing Office to get your HK certificate!
2. Make Payment of Enrollment fee: ₱750.00
3. Then, Return to the Marketing Office for the welcome kit!
Online Enrollment Process
Qualifiers who are looking to enroll online and reserve their slots should visit the online enrollment portal from the link given below.
READ: BEST Scholarships to Apply in April 2023 | Apply NOW
HK Enrollment Deadline
The Deadline to reserve the HK enrollment slot for Incoming Freshman Grantees is until April 30, 2023.
Important Links
Following are the important links related to HK Scholarship slot reservation enrollment:
Link to PHINMA COC Online Enrollment SY 2023-2024.
Link to Cagayan de Oro College website
---
Get Latest Updates on Facebook
Join Owwa Scholarship Facebook Group for Philippine Scholarships, Cash Assistance programs, Civil Service Exams and Government Job updates.
---
[Source: PHINMA-Cagayan de Oro College]