DSWD Educational Assistance Online Registration Links Qr Code
DSWD Educational Assistance Online Registration Links Updates : On August 27, September 3, 10, 17, and 24, the Department of Social Welfare and Development (DSWD) will continue to give cash assistance to STUDENTS-IN-CRISIS. To avoid any conflicts, the DSWD has said that they would no longer accept WALK-IN applications. Applicants will only be allowed to the assessment and payout sites if they registered online.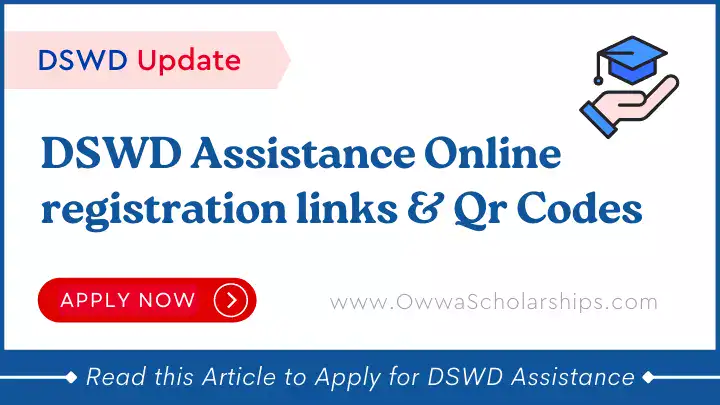 Table of Contents
What is AICS-Educational Assistance, or Assistance to Individuals in Crisis Situations?
The DSWD's AICS-Educational Assistance program aims to assist STUDENTS-IN-CRISIS with their tuition, books, projects, allowance, and other expenses.
Who are those "Students in Crisis"?
In a previous statement, DSWD Sec. Tulfo mentioned the people who are eligible for cash assistance from the department as being the breadwinner, a working student, an orphan or person living with relatives, a child of a single parent, a child of people who are disabled, a child of overseas Filipino workers (OFWs), a child of HIV victims, a child of domestic abuse victims, and a victim of a natural disaster.
Also Read: Filipino Cash Assistance Programs
Take note, however, that Tulfo stated that recipients of the Pantawid Pamilyang Pilipino Program (4Ps) and government scholars are exempt from the DSWD cash assistance. Additionally, the aforementioned people who got the payment on August 20 should return it.
What are the necessary documentary requirements?
Applicants must bring the following requirements during their respective schedule.
Certificate of Registration/Enrollment
Any valid ID (Of student or guardian who will receive the payout)
Application Process:
All applicants who registered online will be assessed by the DWSD Social Workers based on the online registration form they submitted together with the necessary documentary requirements.
Qualified applicants will receive a text (SMS) confirmation from their respective DSWD Field Office containing the date, place and requirements they must bring with them.
Also Read: CHED Scholarship updates
How much will qualified students receive?
Qualified elementary students will receive P1,000; P2,000 for high school students; P3,000 for Senior High School students and vocational/college level students will receive P4,000. Up to three students each family can avail the educational assistance.
Video Guides
How to Apply for DSWD Educational Assistance Registration
DSWD Educational Assistance Online Registration Links
WHERE SHOULD YOU REGISTER ONLINE OR WHERE IS THE REGISTRATION LINK?
Your designated DSWD Field Offices registration portal are indicated below, click your region to redirect you to the page.
DSWD Educational Assistance Registration
Source: DSWD, DSWD Educational Assistance
NEED HELP WITH CASH ASSISTANCE ?