CHED : Stipendium Hungaricum Scholarship 2023 | Apply Now
The Commission on Higher Education, CHED invites all interested applicants to submit nominations for the Stipendium Hungaricum (SH) Scholarship Program.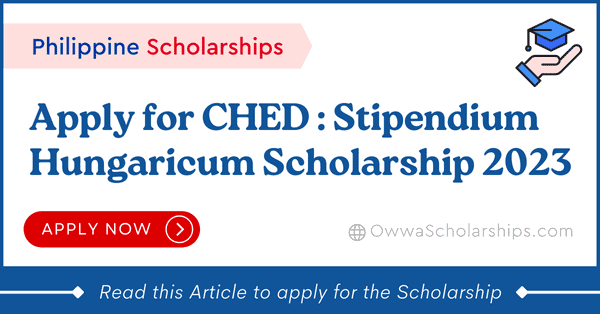 Stipendium Hungaricum, the most prestigious higher education scholarship program of the Hungarian Government, provides a wide range of courses for international students with outstanding academic records.
Table of Contents
The scholarship aims to support the internationalization of Hungarian higher education and its constant development, to strengthen the international relations of the academic and research community, and to promote the good reputation and competitiveness of the Hungarian higher education throughout the world.
The program will operate in Hungary from 2023 to 2024, according to a memo from CHED that was distributed to all of its central and regional officer directors, as well as the presidents or heads of higher education institutions.
Stipendium Hungaricum Benefits
Following are the benefits of Stipendium Hungaricum 2023-2024
Tuition Fees for the entire Study Period,
Monthly Subsistence allowance,
Dormitory Accommodation assistance and
Medical Insurance.
Stipendium Hungaricum Deadline
Applicants must send the required documents to [email protected] and https://apply.stipendiumhungaricum.hu on or before January 23, 2023.
In addition, nominees were instructed to apply online through SH's website. The deadline for submitting documents to the SH portal, according to CHED, is January 16, 2023.
Application Details
Applicants for bachelor's, master's, one-tier master's, and non-degree programs must submit the following documents: an online application form, a motivation letter, proof of language proficiency, school certificates, a transcript of records, a copy of identification, an acceptance statement for application in the online system, and a medical certificate.
Doctoral applicants, on the other hand, must submit their research plan and supervisor statement in addition to the previously mentioned documents.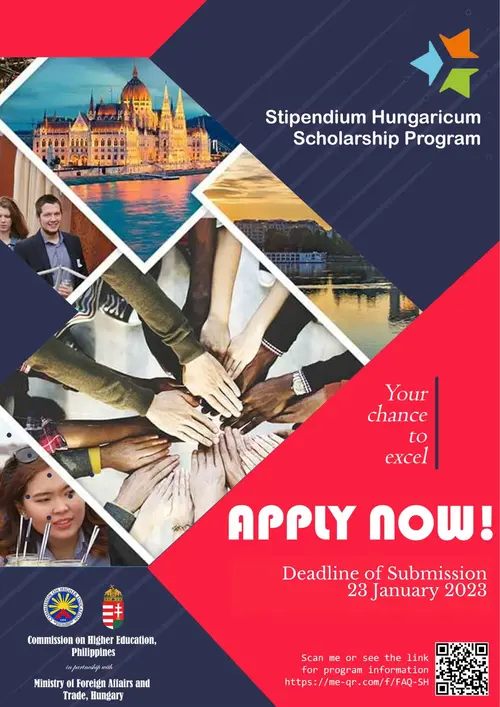 Scholarship Queries
For details and queries, you may send an email to [email protected] or call (02) 8441-0750.
For any additional details, go to www.stipendiumhungaricum.hu/apply/.
Get Latest Updates on Facebook
Join our Facebook group for Philippine Scholarships, Cash Assistance programs, Civil Service Exams and Government Job updates.