Overseas Filipino Workers – OFWs
OFW means Overseas Filipino Workers who works outside Philippines in other countries. Many people leave the Philippines in quest of better employment prospects and greater pay in other nations, and at that point they are classified as an OFW.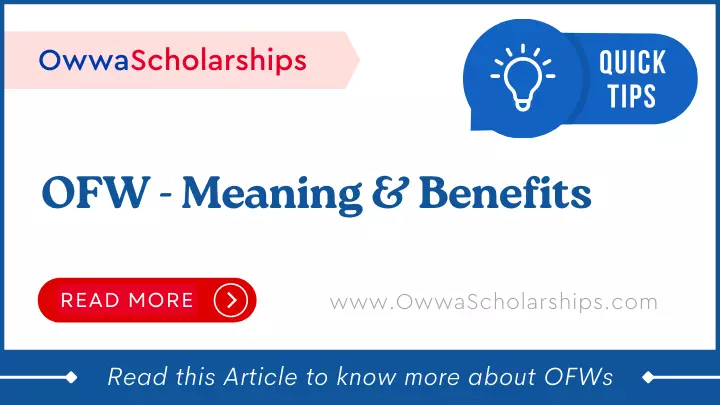 Table of Contents
What is the Meaning of an OFW?
The meaning of OFW is Overseas Filipino Worker.
Since the facilities and pay are considerably better abroad than they are at home, many Filipinos prefer to work outside the Philippines. OFWs frequently deal with a variety of difficulties, including adjusting to a new culture and longing for their families back at home. Despite these difficulties, OFWs remain an important part of the Philippine economy.
Filipinos have long been known for their dedication to their jobs. This is why a large number of them choose to work as Overseas Filipino Workers (OFWs). The opportunity of better pay and working conditions frequently outweighs the risks and difficulties of working in a foreign country. Through the taxes they pay, overseas Filipino workers also contribute to the Philippine government. Furthermore, their remittances add value to the country's economic stability.
Also read : How to Become OWWA member
Why do Filipinos Become OFWs
The reasons why Filipinos become OFWs are
To earn money to support their family.
For better education for their kids.
To get out of unemployment and poverty.
To acquire useful knowledge and skills
To improve their lives and the lives of their families.
To assist with debt relief for their family.
To help their grandparents and parents financially.
In order to cover medical costs.
To begin a company or to purchase a property.
To ensure a brighter future for their offspring.
Philippine Government Agencies that help OFWs are
The Philippine government agencies that provides services and programs to
support its citizens who live and work abroad are
Philippine Health Insurance Corporation (PhilHealth)
Home Development Mutual Fund (Pag-lBlG)
Department of Labor and Employment (DOLE)
Philippine Overseas Employment Administration (POEA)
Commission on Filipinos Overseas (CFO)
Social Security System (SSS)
Department of Foreign Affairs (DFA)
Department of Migrant Workers (DMW)
Philippine Embassies/Philippine Consulates
Overseas Workers Welfare Administration (OWWA)
Philippine Overseas Labor Office (POLO)
Migrant workers can get financial aid and insurance protection from the Overseas Workers Welfare Administration (OWWA), and the Department of Labor and Employment works to make sure that workers are adequately protected by local laws.
The Foreign Affairs Department assists with passport renewals and offers consular services. For employees interested in obtaining jobs abroad, the Philippine Overseas Employment Administration also offers services and information.
What are Common Problems of Overseas Filipino Workers
It's not as wonderful as it looks to be to be an OFW. Yes, you get to work and go abroad, but you also spend time away from your loved ones. New difficulties, such culture shock and language hurdles, must also be overcome.
Changes in culture and society.
Less wages compared to local labour
Unsafe work environment due to Discrimination.
Stressful work conditions.
Health issues due to new environment
Homesickness and longing to family.
Learning the local language of that nation.
Lack of moral and emotional support.
Poor living and working conditions..
Lack of financial security.
Separation from family and friends.
Lack of self care, rest and relaxation.
Difficulty in adjusting to the new environment.
Fear of being stranded in a foreign country.
Limited access to quality health care.
Limited access to education and training.
Lack of social support from the local community.
OFWs frequently experience exploitation and prejudice. They might not have the same rights or protections as natives, and they might be paid less. As a result, homesickness, anxiety, and melancholy are common among OFWs. After years gone, they could also find it difficult to adjust to life at home. For these reasons, it's crucial to be aware of the typical issues that OFWs encounter with so that you're better equipped to handle them.
OFWs further deal with a variety of difficulties, including adjusting to a new culture and missing their relatives back home. They also have to cope with the risks and challenges that come with working abroad.
Nonetheless, they continue to serve as OFWs for their families and play a major role in shaping the economy of Philippines.
How to Help Overseas Filipino Workers
Every day, the world gets smaller, and more individuals are working overseas due to the opening of borders. As a significant portion of the global workforce, Filipinos particularly benefit from this. OFWs may find new possibilities and a greater standard of living by working overseas, but it may also be a challenging transition.
OFWs frequently have to work long hours in unusual and occasionally under hostile environments while being away from their families for protracted periods of time.
Here is how you can help OFWs:
Making a donation to groups that assist OFWs.
Giving of your time to assist OFWs
Raising awareness of the difficulties and problems faced by OFWs.
Providing skilled Filipino people with employment prospects.
Additionally, you may offer emotional support by communicating with them and paying attention to their worries.
Urging people to utilize remittance services.
You may volunteer to assist with their papers or contact government offices on their behalf.
Supporting initiatives that provide OFW children scholarships.
Encouraging the Philippine government to increase job creation.
Also Read : Ongoing OFW OWWA Scholarships
What are OFW Remittances?
Remittance is the method by which money from migrant workers to their dependents or family back home. Wire transfers, money orders, and traveler's checks are some of the common formal and informal methods used to send this money. Remittances are frequently used by OFWs to assist their relatives back home.
Why are Overseas Filipino workers (OFWs) considered modern-day heroes?
Following are some of the reasons why Overseas Filipino workers (OFWs) considered modern-day heroes
Many Filipinos aspire to become OFWs despite the dangers because they think it is the greatest way to better their life and the lives of their families.
They are prepared to put their lives in danger to accomplish this aim in whatever way necessary.
OFWs play a significant role in the Philippine economy and provide numerous benefits to the nation.
They are motivated to achieve despite the many obstacles they face.
By providing financial support, giving of your time, and spreading awareness of their plight, you may assist them.
OFWs can be more successful in reaching their goals and bettering the lives of their families with the right training and support.
The absence of possibilities for productive employment is possibly the most intimidating of all the difficulties that Filipinos confront today. Jobs are hard to come by, and many families are fighting to make ends meet in the Philippines as the country still struggles to recover from the effects of the global financial crisis.